Heading out to the ol' fishin' hole with a picnic lunch and a cane pole is about as down-home American as anything you can think of, but these days, recreational and "destination" fishing is a healthy part of the USA's tourism and jobs creation, in addition to being a strong aspect of American culture. One report says that during one recent year, saltwater recreational fishing alone supported 472,000 jobs, generated $68 billion in sales impacts across the economy, and contributed $39 billion to the GDP. That's nothing to sneeze at.
Let's go over a brief history of fishing in America, and then we'll list our favorite locations for five different types of fishing.
The history of fishing in the USA
Trying to summarize the history of fishing in America is akin to trying to summarize the history of people in America. Fishing has been integral to America's coastal and river-centric peoples for thousands of years, many of whom used weirs to trap salmon migrating upstream to spawn.
Native Americans along the coast of present-day California are known to have fished with hooks made from wood and bone as well as line tackle. Some tribes used poison to make fish sluggish and easier to catch.
Recreational fishing or angling was growing somewhat popular in England and Scotland in the 1600s and grew greatly in popularity in the 19th century in both Europe and the USA as America underwent the western expansion. Fly-fishing in particular became a hugely popular pastime among the growing middle classes in the mid-to-late 1800s.
US fly fishermen during this period are thought to be the first to develop and use artificial lures specifically to tempt largemouth and smallmouth bass, namely the spinner/fly lure and bass popper fly, which many bass anglers still use today.
In the latter half of the 19th century, there were many books, essays, paintings, and treatises dealing with fly fishing, and the popularity of the sport peaked in the 1920s, though it remains a contemplative, nearly religious, lifelong pursuit of perfection for many modern anglers.
Deep-sea fishing was boosted in popularity in the 1920s and 1930s by the likes of Ernest Hemingway who wrote about it in his very popular novels, and by returning WWII vets in the 1940s who had experienced a lot of the world's maritime lifestyle and cultures during their travels.
With the economic and population boom of the mid-20th century, as well as the creation and popularization of the national parks system, all types of recreational fishing (as well as commercial fishing) gained further popularity in American culture.
As technology improved generally, so did fishing gear specifically. By 1770, a rod with guides along its length for the line and a reel was in use. Although simple wooden reels had been used in Europe and the British Isles since the 1600s or so, the first true reel was a geared reel attached under the rod in which a turn of the handle moved the spool several revolutions (just how it works today), though early examples, developed in the late 18th century, had brass gears that sheared easily. At the same time, fishing rods were improved with the use of tough, elastic straight-grained woods such as lancewood from South America and bamboo from India.
In the late 1800s, rods were made still stronger and thinner by gluing together several strips of bamboo (effectively a laminate). Fishing line started to be made of silk covered with coats of oxidized linseed oil, instead of twisted or braided horsehair, allowing for longer casts. By the early 1900s, fishing rods began to be made with fiberglass. Fishing reels were continually improved and spin-casting reels became popular. In the 1930s, a nylon monofilament line was developed, and in the mid-1940s, braided and other synthetic lines were being produced. By the late 1960s, rods were being made with carbon fiber allowing them to be stronger, shorter, and lighter. Plastics eventually replaced wood as the primary material for making artificial lures.
Of course, the sonar fish finder, first commercialized in 1948 in Japan, was a game-changer for many fishermen, though some purists still try to read the water and pray to the fishing gods to locate the big ones.
It was the development of inexpensive fiberglass rods, synthetic fly lines, and monofilament leaders in the early 1950s that revived the popularity of fly fishing in America. Popular culture also helped give it a boost with the Robert Redford film A River Runs Through It in 1992 (a beautiful movie that also helped boost Brad Pitt to super-stardom).
One of the great things about fishing in the USA is that it is truly an activity for the Everyman. All you need is some basic gear and a cheap license, and you can find bliss on any pier or near a pond, river, stream, lake, or even in the trash-filled LA river in urban Los Angeles.
Benefits of fishing
There are many health benefits of fishing, as well as its beneficial impact on jobs and tourism. There have been dozens of studies performed on the health benefits of fishing, and here are just a few:
Being outdoors is good for body and mind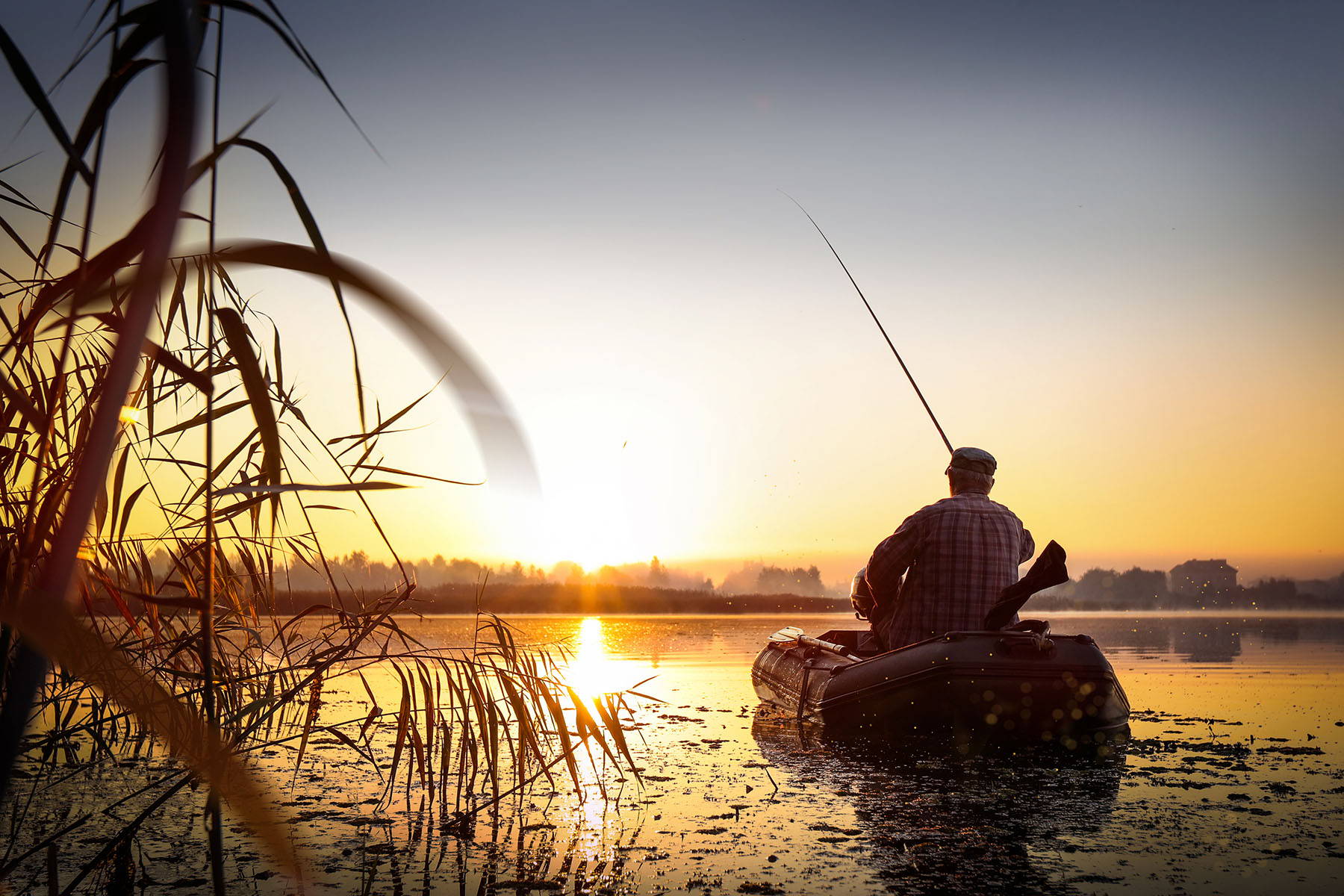 Even if all you did was go outside and sit for an hour a day, you'd still see serious health benefits. But outdoor activities like fishing are proven to improve mood, increase beneficial sleep, lower stress, and more. Getting some sunlight through your eyes every day is immensely beneficial, as is healthy sun exposure, which improves vitamin D levels and has other benefits to your body.
Fishing gets you out on or near water, which is shown to improve mood, reduce stress, and ease anxiety. There have been recent studies showing that recreational fishing can help combat the effects of PTSD as well.
Fishing is a chance for bonding with friends and family
Some of you may be thinking, "Hold on, how… I go fishing specifically to get away from friends and family." Fair enough, and that's a benefit to many anglers. However, many people enjoy the camaraderie and conversation that can happen when you go fishing with friends and family. Many of us remember spending "quality time" as young anglers with our parents or grandparents. Making memories and bonding with loved ones is another potentially huge benefit of fishing.
Fishing improves concentration and patience
Many fishermen may try and fail to describe the deep connection to nature they feel when fishing, or the "zen" of fishing, where the contemplative, quiet activity becomes almost spiritual. Regardless, anyone who fishes understands that patience and concentration are key attributes of an effective angler.
Modern society and technology are having real and serious impacts on our overall physical and mental health, as well as our sense of belonging and well-being. Many of us are addicted to our phones and social media, and actually find it difficult or uncomfortable to sit for more than a minute or two without having a phone to look at or a social media feed to scroll through.
Take the chance to truly unplug and go fishing, and you'll start to understand why it can be such an impactful, beneficial activity for you and your family.
Eating fish has numerous health benefits
There are quite a few anglers who don't like to eat fish, just as there are trophy hunters who don't eat the meat they kill. However, eating fish is one of the best ways to get healthy, high-quality proteins, "good cholesterol," and omega-3 fatty acids into your system, as well as iodine and other essential minerals.
Financial impact of fishing tourism, outfitters, license fees, conservation
We mentioned above that recreational fishing is a multi-billion-dollar industry. This hugely beneficial activity creates jobs, supports local communities, and provides millions of dollars in license fees for conservation efforts.
Best fishing spots in America
Listing just a few "best" fishing spots in a huge and diversified country like the USA is a tall order. Ask any dedicated fisherman (incidentally, both men and women anglers generally prefer their group to be called "fishermen") from any state about their favorite or most productive spots and they'll swear their state has "the best [insert species here] fishing in the country." But they won't likely tell you exactly where they have the most success until you earn their trust… or maybe until after you marry their son or daughter. And then, it's still a maybe.
So, every state in the USA has great spots for fishing. Really. To narrow down the list (and change it up) a bit, we've come up with one recommended prime location for 5 different categories or types of fishing. Let's dive in!
1. Best place in the USA for deep sea/sport fishing: The Florida Keys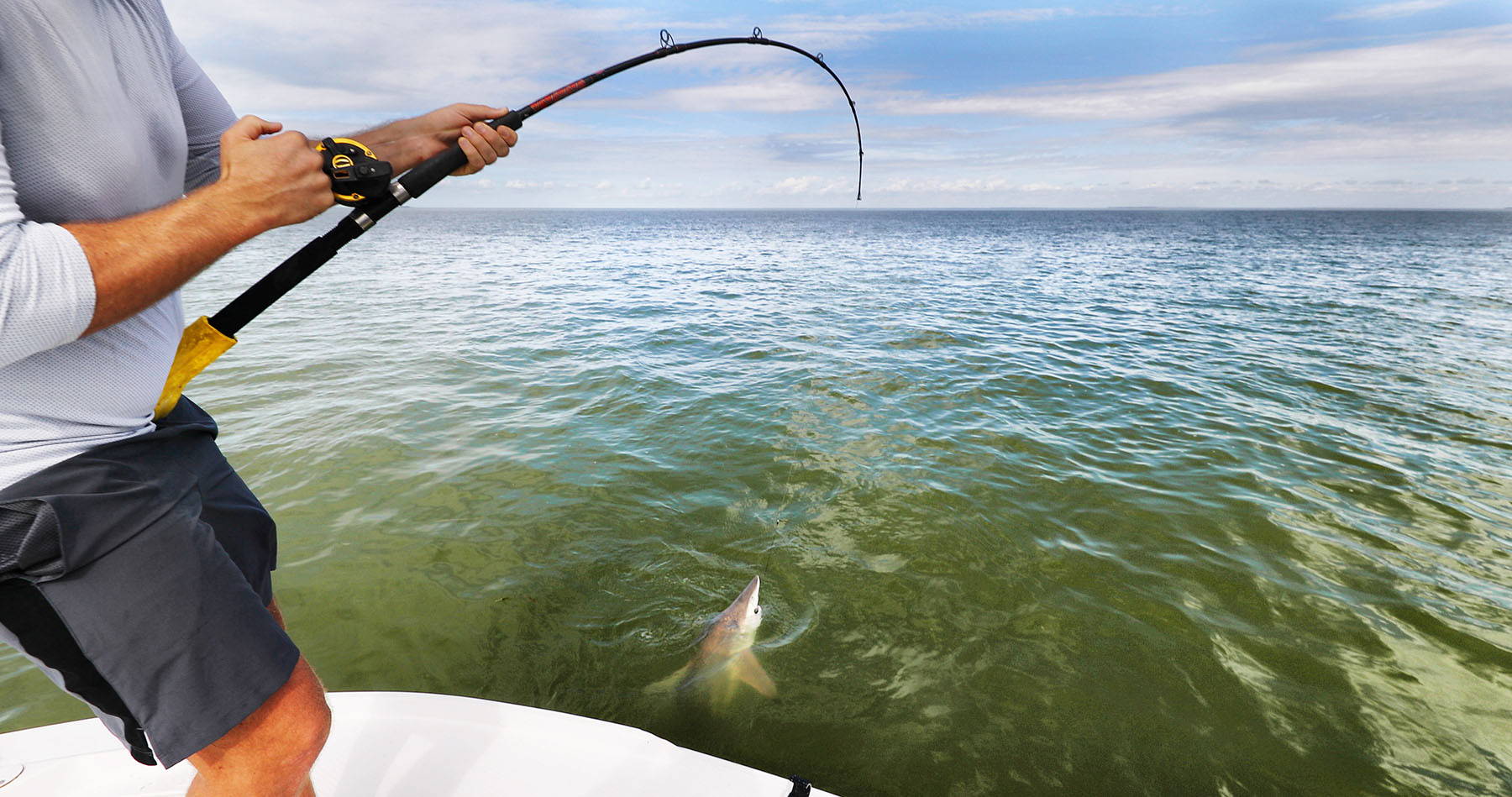 Florida is a paradise for multiple types of fishing, but is often the only location in the USA that makes it onto "Best places to fish in the world" or "Best sportfishing locations in the world" lists. The access to both the Gulf and the Atlantic, the relaxed (and fishing-friendly) local community, the abundant guides and charters in the area, and the excellent fish restaurants (and bars) in the Keys bring people here, but the world-class sportfishing brings them back year after year.
Sportfishing enthusiasts can charter boats to chase the well-known marlin, sailfish, and shark, but true connoisseurs and local guides will let you know that the real fighting fish, and the most fun you may ever have on a deep-sea charter, are in the lesser-known species inhabiting Florida's abundant waters: greater amberjack, bonefish, mahi-mahi, grouper, mutton snapper, permit, and tarpon, among others.
2. Best place for large mouth bass/boat fishing in the USA:Toledo Bend Reservoir, Texas/Louisiana border
There are literally hundreds of places to find excellent largemouth bass fishing in the USA, from Michigan to Georgia, from Florida to (yep) California. But Toledo Bend Reservoir on the border of Louisiana and Texas is a perennial fave on lots of "best bass fishing" lists, and for good reason. Largemouth thrive in the over 181,000 square-foot reservoir, as do crappie, catfish, and striped bass. You can cast from the shore, but for the best experience, we recommend you bring your bass boat, y'all!
3. Best place in America for trout fly fishing: Green River/Flaming Gorge Reservoir, Utah/Wyoming (especially below the dam)
Flaming Gorge Reservoir is a true gem of Utah/Wyoming scenery and fishing. The lake itself is the premier trophy trout fishery in Utah and Wyoming, and has been called "the most scenic trophy trout destination in the world."
Fishing top water down to 50 feet you will likely catch rainbows, browns, tigers, and smaller lake trout. Kokanee salmon stay shallow in the winter/spring and move deeper as the summer months warm the water. Flaming gorge's monster lake trout (including 2 previous world records) generally stay in deeper water (70-120 feet), but they will feed in the shallower water especially in the early spring. Flaming Gorge also has a very active bass population in the summer months when the water has warmed a bit.
But for the real-deal, fly-fishing experience of a lifetime, we recommend you hire a guide with a wooden, 2-oar boat and fish Utah's Green River below the dam, which was rated by Field & Stream as "America's best tail water."
The Green River, as it emerges from below the Flaming Gorge Dam, is regulated to maintain an optimum temperature and flow that has created a world-famous trout fishery. You can find browns, rainbows, cutthroats, and cut-bow hybrid trout. The Division of Wildlife Resources in Utah states that the Green River has up to a mind-blowing 22,000 fish per mile between the dam and Red Creek rapids.
This, combined with the stunning scenery, make Flaming Gorge a top pick for anglers.
4. Best beach fishing/surfcasting in the USA: Montauk Point, New York
Pretty much any beach in America can be productive for surfcasting if you know what you're doing, and relaxing with some cold beverages on a warm, SoCal beach and throwing your lure into the surf every once in a while may be many people's idea of paradise.
But for serious, epic surfcasting, you need to check out the fall run at Montauk Point at the far northeast tip of New York's Long Island.
According to local experts, at least ninety percent of all Montauk surfcasting takes place in one of five main areas: Shagwong, the North Side, the South Side, Town Beach, and Hither Hills. Each area can be further broken down into dozens of locally-named spots, and it'll take you years before you pick your favorite, because any and all have been productive at some point. The hamlet/town of Montauk has been described as a "pretty little drinking town with a fishing problem," but recently has grown in services available as well as legitimacy as a travel destination. Whether you hire a local guide or go it alone, you're sure to have a great adventure.
5. Best ice fishing in the USA: Brainerd, Minnesota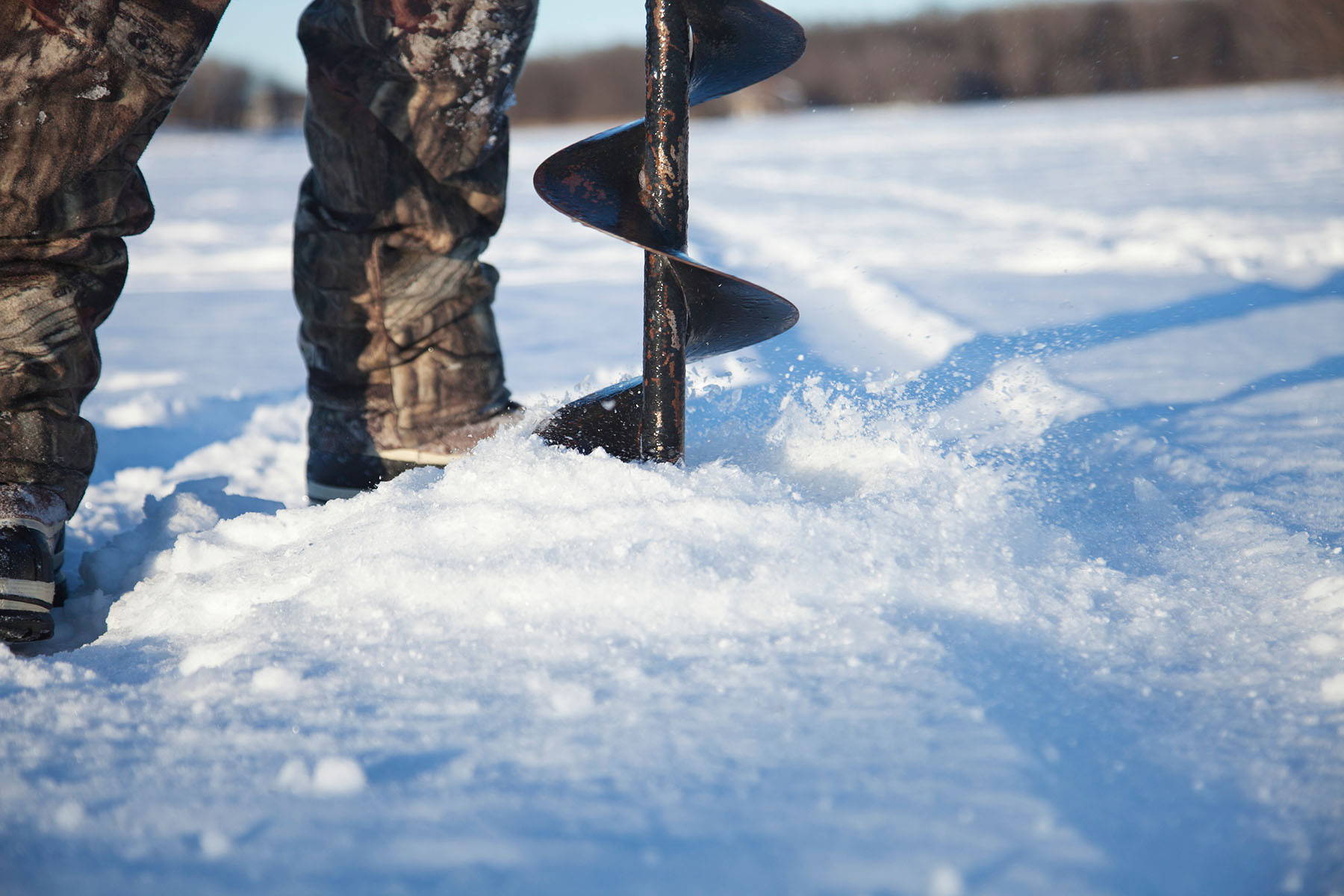 Minnesota is known as "the land of 10,000 lakes" even though the state boasts over 11,000. But our pick for the best place in America to get your freeze on while you've got a fish on is the area around Brainerd. Popular lakes within a few miles of town include Round Lake, Gull Lake, and Lake Hubert. Bluegills, walleye, largemouth bass, yellow perch, northern pike, and many others inhabit the local waters.
With an average daily high temperature of 21 degrees F for December and January, you'll need to dress warm and make sure you have the right gear to stay comfy out on one of the frozen gems of Minnesota.
What to wear while fishing
What you wear when fishing will depend greatly on the time of year, the temperatures in that area, and the type of fishing you're doing. While a bikini and a good sunblock may be sufficient for casual boat or shore fishing in southern California, gulf coast Texas, or Florida, you would certainly be underdressed in Sitka, Alaska, or in Montauk, New York for the fall run.
Any time you're on or near the water in the sun, you get hit with a double-whammy of sunlight (which can be beneficial, as we pointed out above), so be sure to select clothing, hats, and gear with a high SPF rating. Ideally your fishing dress should be resistant to sunblock and insect repellent, as well as providing durability and breathability. Your nose and lips can practically get toasted right off your face if you're not careful, so consider using zinc "lifeguard's sunblock" on your nose and get some lip balm with a high SPF for your lips.
You definitely want a good hat; a sun-shading one if you're out in the sun and heat, or a knit wool cap if you're standing in icy water.
Waders are a must if you're fly fishing out of a boat or surfcasting. If you're sitting on the ice in North Dakota, you're going to want excellent, waterproof, insulated boots as well as heavy cold-weather gear.
Talk to your outfitter before your fishing trip and make sure to follow their recommendations to ensure you have the best time possible.
Get the best safes and apparel at Liberty Safe
Check out Liberty's full line of t-shirts, hoodies (great for fishing in areas where it can get chilly as the sun goes down), and custom trucker hats (perfect for wearing while fishing as well as while hanging out afterward). We also offer neck gaiters which are ideal for keeping the sun off your neck and face, or for keeping out the chill while out on the lake.
And of course, you can find the best gun safes, made in the USA from US-made steel, at Liberty Safe. Consider storing your pricier fishing reels in your safe!
Now that you know the 5 best fishing spots in America click this link for the 5 best hunting spots in America.