In any sport, hobby, or activity, there is typically associated "gear" that makes it more enjoyable, convenient, easier, or safer. Shooting is no exception. While you can certainly have fun at the range by taking just your firearm, a box of ammunition, and ear/eye protection, a range bag can make transporting things a lot easier and keep everything you need close at hand.
Let's go over the basics of shooting bags or range bags and then we'll show you some of our favorites of various types.
What is a range bag?
A range bag is, in simple terms, any bag you use to carry stuff to the range for target shooting, plinking, or competition. It can be as simple as a nylon duffel, an ammo can, or even a sturdy grocery sack if you're desperate, but a dedicated range bag will be purpose-built and vastly preferable to a simple one-compartment bag or carry-all. Range bags are usually designed around handgun/pistol shooting, although a good range bag is extremely useful for carrying the necessities for shotgunning or rifle shooting as well.
Range bags come in various formats, including large or small handbag-types, duffels with or without shoulder straps, backpacks, rolling bags similar to airline carry-on luggage, or a hybrid of 2 or more styles.
Competitors might keep more than one bag for different matches or divisions they shoot. Depending on how you like to organize your gear, you might even have one range bag for each type of handgun (or long gun) you use, and keep specific tools, magazines, loaders, holsters, pouches, etc. for that platform in a particular bag, so you can just grab and go.
What makes a quality range bag?
The three primary characteristics and features a good range bag provides are durability, convenience/ease of use, and protection for your firearms and gear.
Durability comes from the materials the bag is made from, and the quality and attention to detail in the construction/sewing. "Ballistic nylon" is typically a preferred material, which is a high-denier nylon-type fabric. 1000 denier Cordura is good (a higher "denier" equals a thicker individual thread comprising the fabric), and provides abrasion resistance, sturdiness, and even a bit of water-repelling capability depending on how it's treated.
People do make range bags out of leather or other materials, but a high-quality synthetic is the norm, and is usually preferred overall. Guns, ammo, tools, and gear are heavy, so a sturdy bag with reinforced handles is essential.
A good range bag will have a wide main opening, often with double zippers on either side of a large central flap. The zippers themselves will be high-quality, and any pulls will be 550 paracord or similar. Construction will be well-done with high-quality thread and double stitching (or more) in high-load or high-use areas. No frayed edges of fabric or loose threads will be apparent.
A good range bag should not "fall into itself" if opened and empty. It should have self-supporting walls and pockets that not only offer increased capacity and organization capability but also provide stability and support.
Any included pockets, pouches, or slots intended for holding firearms and magazines should be durable and preferably padded, to prevent unnecessary wear of your items. Handles and shoulder straps (if included) should be padded, strong, ergonomic, and comfortable to use. Ideally, the shoulder strap should be adjustable and removable when desired.
Included, adjustable dividers are handy for customizing your range bag for your individual loadout and preferences. The floor of the bag should be rigid or semi-rigid to help keep dividers in their appropriate places and your items from smashing together when you pick up the bag.
Whether you prefer a large, medium, or small range bag, it should have lots of space for the items you want to include. A tiny range bag with pockets and pouches that are too small to actually hold the items you want is obviously not ideal. Like buying a gun safe, we recommend going larger than you might think you need, to allow for more items when desired.
Additional features like pockets for water bottles, map pockets, MOLLE webbing, removable or expandable end pouches, etc. are up to individual preference, but naturally, all of these options should be of high quality and sewn well for utility and durability.
One feature you might not think of, but which is a real benefit, is rubber/polymer feet on the bottom of a range bag to keep it from sliding around on a shooting bench, truck bed, or slippery floor. This also helps keep the bottom surface of the bag from abrading against the ground or shooting bench and wearing out too quickly.
Our favorite range bag brands and products
Now that we've covered some of the features that make a great range bag, let's go over a few of our favorites.
Tactical Tailor
Tactical Tailor features top-quality, USA-made bags, packs, chest rigs, and apparel for law enforcement, military, and civilian use. We like their Competition Shooter's Bag, but it's not cheap at $285.50 MSRP. The large (22") main compartment features thick padding and adjustable dividers with built-in pockets and elastic loops for mags or other similar items. The bag comes with a removable "gun rug" (soft pistol case) that stores in its own pocket to keep a handgun secure. Inside the top flap, you'll find multiple pockets as well as pen storage. The top of the bag has two additional, large external pockets, a see-through ID pouch, and a heavy-duty carry handle. The exterior of the bag is constructed of 1000 denier Cordura, and features heavy-duty dual-pull zippers (with 550 paracord pull-tabs) as well as a large, padded, removable shoulder strap.
We generally prefer a double-zipped top opening rather than the Competition Shooter's Bag's circumferential zipper and clamshell-style opening, but the Tactical Tailor design does allow for more storage in the large top pouches secured to the "lid" of the bag. We recommend using those for bulkier, but lighter-weight items like gloves, wool caps, or earmuffs, rather than heavy stuff like ammo or tools, to prevent an open lid from pulling the bag over backward when the bag is not fully loaded.
In all, an extremely well-made range bag with a lot of premium features, and it's 100% made in the USA. Bonus!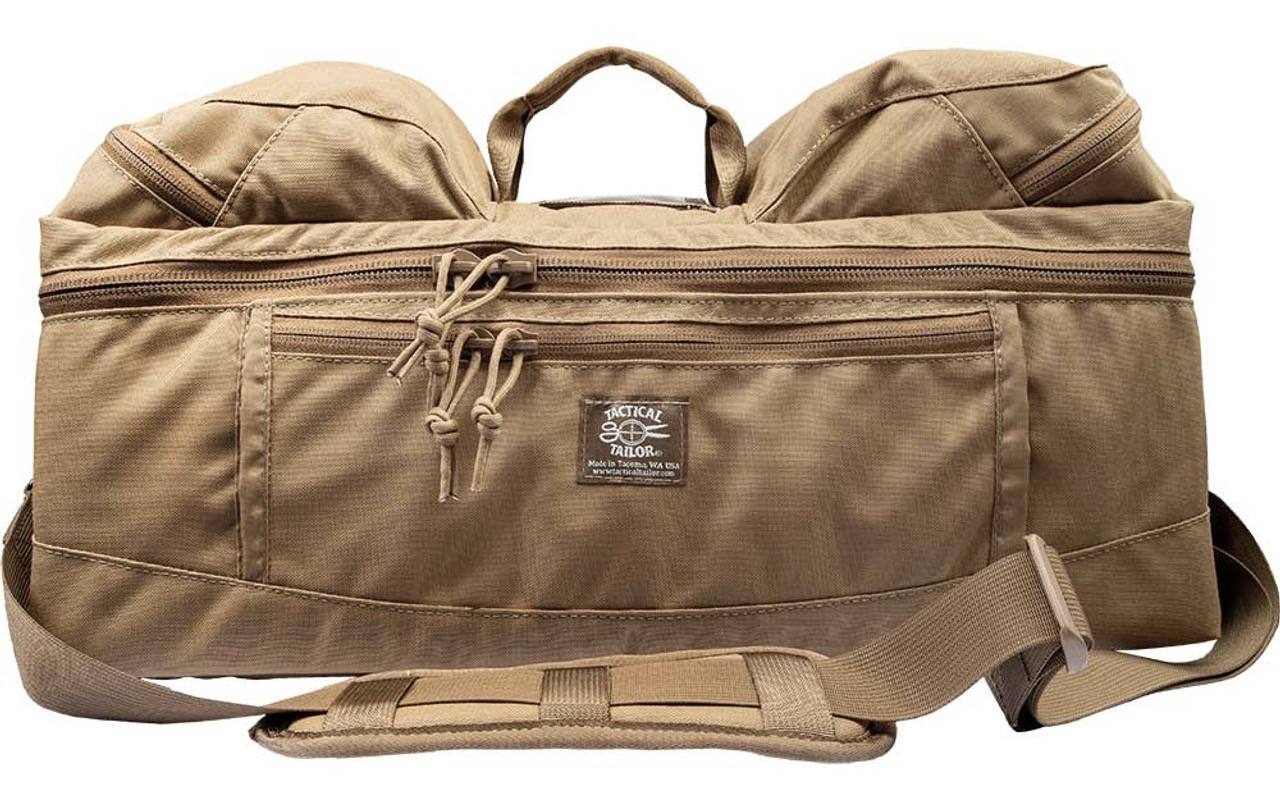 [Photo Credit: Tactical Tailor]
Gauge Outfitters
Gauge Outfitters prides themselves on not only being 100% American-made, but they source every thread, fabric, zipper, and piece of velcro from companies selling USA-made products. Their aptly named American Range Bag is a handy size at 16" wide, with room for up to 4 handguns and lots of gear.
The American has an integrated MOLLE-type panel on one side, and comes with two divider inserts with the ability to purchase and add more. Each insert can hold a handgun and its magazines, and the main compartment fits a maximum of four gun/magazine combination inserts.
The bag is constructed of 1000-denier Cordura, has a removable hard bottom, and includes a built-in, detachable rollout gun mat, which is a thoughtful feature.
The American Range Bag comes in Black, Coyote (tan), or an attractive Teal color that we actually like quite a bit. It breaks up the "tactical" black/OD/flat-dark-earth landscape and doesn't scream "gun" if you ever want to use the bag for non-shooting purposes.
MSRP is $150, which is a good deal for a 100% USA-sourced bag of this quality.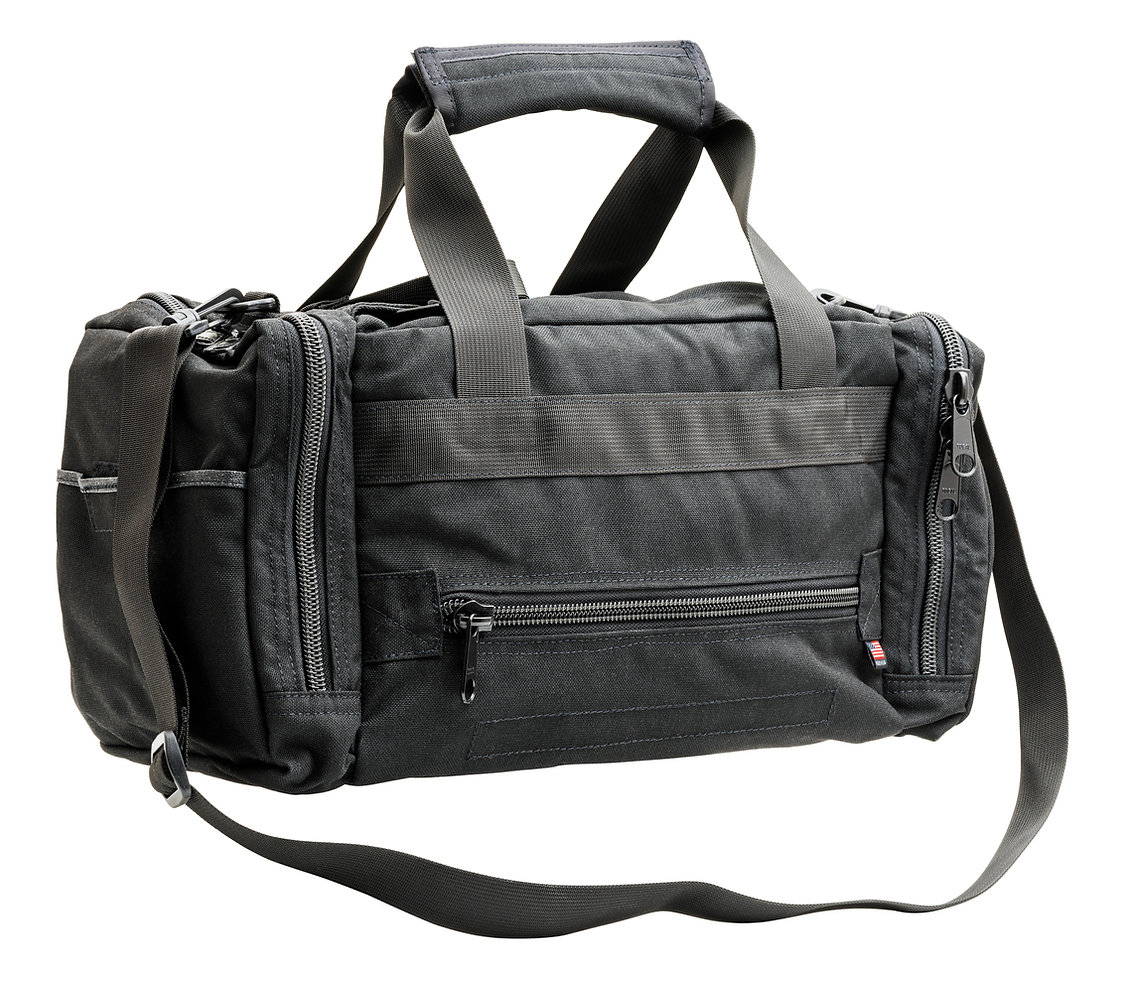 [Photo Credit: Gauge Outfitters]
GPS Tactical
GPS Tactical makes several types and sizes of well-thought-out range bags, and are best known lately for their tactical range backpack, but we thought we'd point out their Sporting Clays Bag. Obviously intended for a shotgunner shooting sporting clays where you move from one stand to another throughout the course, this bag is designed to carry up to 10 boxes of shotgun shells, along with all the chokes, tools, and gear you might need to keep your shotgun running and your eyes and ears protected throughout a long day at the Sporting Clays club.
The bag includes convenient "lift ports" on each end, which are reinforced fabric handles that don't stick out to catch on anything. The zippered front pocket has elastic loops with 7 clear plastic storage tubes for chokes, bore mops, or snap caps. There are specialized (and labeled) pockets for shooting glasses, ear protection, tools, and more, and the bag comes with an integral, pull-out rain cover to protect your gear in case of a sudden downpour.
You can certainly use this range bag for handguns as well, but it's good to see a specialized range bag for shotgunning/sporting clays use. MSRP is $149.
[Photo Credit: GPS Tactical]
Vertx
If you prefer that your range bag not scream "gun inside!" the Vertx COF (course of fire) Light or Heavy Range Bag might be for you (we like the Heavy/large version). They are black, but the exteriors are accented with stylish, weave-looking "heather black" panels that wouldn't look out of place on a Louis Vuitton.
Thankfully, the COF is as well-thought-out as it is good-looking, with a large, reinforced upper deck storage area accessible by a double-zipped top panel, super-cool semi-rigid slide-out ammo caddies underneath, room for tons of gear, and even a concealed carry compartment. There are reinforced, rubberized feet, an adjustable/removable padded shoulder strap, easy-wipe-down surfaces throughout, a removable 6-pack magazine pouch, and a unique security lock-down cable system that runs the length of the bag, giving you multiple options for securing it to your vehicle, reducing chances of a quick smash-and-grab.
If you're familiar with the firearm social media personality Colion Noir, you know he is about style as well as substance, and in his video you can get a look at the styling and features of the Vertx COF Heavy Range Bag.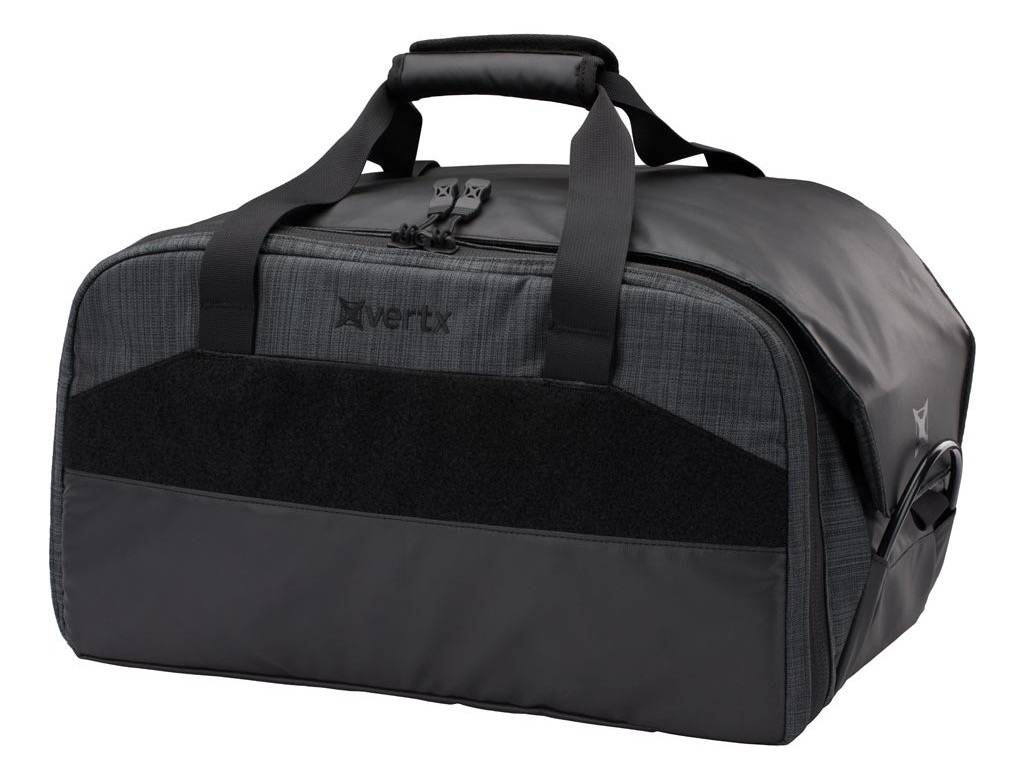 [Photo Credit: Vertx]
Orca Tactical
A whale of a good company (see what we did there?), Orca Tactical got their start in a garage, sewing MOLLE EMT pouches after growing dissatisfied with the quality of available med pouches. First responders and medics loved their pouches so much that the company expanded and now makes a full line of range bags, backpacks, and more, all at a killer deal (see what we did again?).
Their compact-sized range bag is smaller than its name (at least on their website)—Gun Range Bag Compact Handgun Pistol Duffel Carrier—but is a useful 16" wide size with a total of 13 compartments and pockets, with plenty of strong double-stitched elastic band webbing to hold the essentials.
Per Orca: "The spacious main padded compartment features high quality 2 way YKK zippers with a sturdy, rubber pull handle for easy access. This compartment contains a roomy side pouch with a velcro strap enclosure perfect for accessory storage. It also contains 2 beverage can sized side pockets for handgun, accessory, or beverage storage and elastic bands with several shotgun shell sized loops to use as shotgun shell or accessory storage."
There are more padded pistol pouches and pockets on the front and inside the large, zippered front panel, a thoughtfully mesh-ventilated and padded carrying strap and an attractively quilted 600D Cordura exterior that looks great in any of the 4 available colors. MSRP is $85, so you can afford to look great and protect your gear with this quality range bag.
[Photo Credit: Orca Tactical]
Maxpedition
A pioneer in unconventional packs, bags, and carry solutions, Maxpedition makes a large-size, large-price bag called the Centurion Patrol Bag. Like the Tactical Tailor Competition Shooter's Bag above, this bag's 19" wide main compartment is accessed via a 3-sided, dual-zippered lid, but Maxpedition's version has MOLLE webbing along the top and ends of the bag, so you can add additional pouches where desired. Inside is an adjustable bottom stiffener panel with two removable dividers.
The water-resistant 1050-denier Cordura bag features molded plastic feet for support and wear resistance, tons of pockets and zippered panels, a wrap-around dual handle design for superior strength, and includes an adjustable 2" shoulder strap with tri-fold shoulder pad.
A huge, buy-once-cry-once, top-quality bag, the Centurion Patrol Bag is not cheap (at $285) but it will last you for years or even decades of hard use. Our only complaint is, since this is designed as a patrol bag rather than a dedicated shooting/range bag, there aren't as many options for dividers or compartmentalization as a range-specific bag typically has. A full 24" wide, this is not a small bag, but it has room for everything you need and then some. If your budget and your gear-carrying needs are a bit smaller, Maxpedition is currently offering their compact range bag for $119.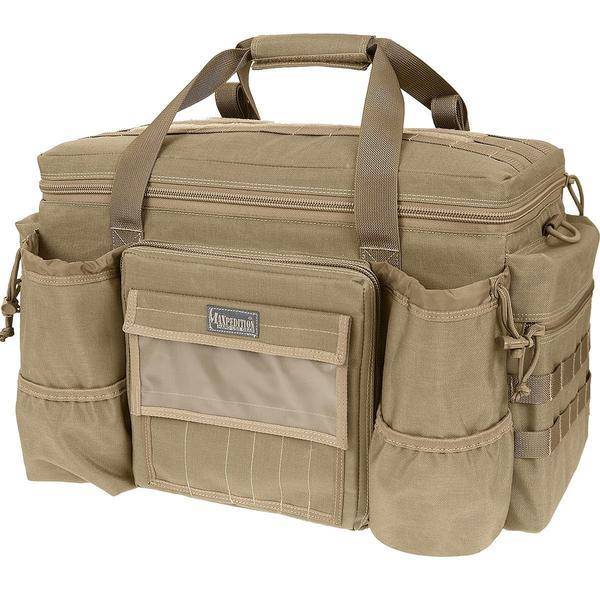 [Photo Credit: Maxpedition]
Our favorite budget range bags: Bulldog Tactical and Smith & Wesson
You don't need to spend tons of money to get good durability and utility in a range bag. You might not get all the premium doo-dads of the more expensive bags, but these range bags prove you can get good quality and useful features at a good price.
Bulldog Tactical offers several sizes and colors of basic range bags, and their 13" wide size range bag is perfect for one or two handguns and all the gear you need, at around $55 from various online retailers and big-box stores. At this price point, you might find a stray thread you need to touch a lighter to, or a missed stitch in places, but likely not, from our experience.
If you can spend a little more, the Smith & Wesson M&P Officer Tactical Range Bag offers an astounding number of features for the price. This MOLLE-covered bag features a large, 18" wide main compartment that houses a separate, padded, removable open-top internal bag for organization and convenience. This is a bonus you typically only get with premium bags. The Officer Tactical Range Bag also includes 8 pockets, 8 magazine pouches, and 2 padded, zippered, removable pistol cases. The internal walls of the main compartment have full-length velcro-type material so you can place the padded dividers wherever you want.
At $79.99 MSRP, this bag packs a lot of value for the price. Here's a good video overview of the S&W M&P Officer Tactical range bag and its features.
Types of range bags
There are multiple types or formats of range bags, and depending on your intended use and preferences, one or the other may or may not be ideal for you. Let's go over some of the primary types of range bags and their advantages.
Large vs small range bags
Choosing between a large and small range bag is a personal preference, but remember that the more heavy stuff you cram into your range bag, the heavier it will be to carry. If you load 6 large handguns and 1,000 rounds of ammo, plus all your tools and gear, into a huge range bag, you may not want to lug it very far. And that's fine if you're parking close to the shooting area you're using or have a lot of upper body strength.
A smaller range bag can make a lot of sense in some cases, particularly if you're dedicating that bag to one or two guns and the essentials for the range. GPS Tactical's Tactical Quad + 2 Pistol Range Bag can hold up to 6 handguns if you pack the quilted liners carefully and use the outer pockets to hold guns as well, but we'd recommend it for one or two handguns and maybe some essential tools and mags.
You won't be able to carry larger, bulkier items like shooting earmuffs or ammo boxes, but your handguns will be well-protected from dings and scratches.
Backpack range bags
Range Often and the aforementioned GPS Tactical are among the better brands for tactical or range backpacks. This format makes a lot of sense if you have multiple handguns to carry to the range, lots of gear and tools, and/or you'll be moving through courses of fire throughout the day without access to your vehicle.
Some backpack-type range bags feature not only shoulder straps but also rolling wheels and extendable handles for even easier transport.
Here's a good video overview/review of the GPS tactical range backpack.
Rolling range bags
If you're taking lots of heavy stuff to the range, particularly if the range surface is relatively smooth, a rolling range bag can make things a lot easier. Similar in function to an airline carry-on bag, rolling range bags have 2 or 4 wheels, a sturdy internal frame, and an extendable handle, so you can wheel your way from stage to stage, or to and from the firing line. The frame and handle do add a bit of weight and take up some space, so take that into consideration. Usually, the convenience is worth any tradeoff, particularly if your loadout is fairly heavy or your ability to carry heavier loads is compromised.
Keep your guns secure in a Liberty Safe or Handgun Vault
Remember, a range bag, even if you lock the zippers, can usually just be picked up and stolen. Never store your guns in your range bag long-term. When you're done with your range day and you've cleaned and lubed your guns, be sure to keep your firearms secure in the best gun safe or handgun vault you can afford, until your next trip to the range.