Reviews
Centurion 24
Centurion 18
Centurion 12
Specifications
30 minutes of certified fire protection at 1200º F for the 12 and 18 models. 40 minutes of protection for the 24 model.
Palusol heat-activated door seal expands to protect against smoke and heat
UL listed Sargent and Greenleaf mechanical lock (electronic lock also available)
Single hardened steel plate to protect the lock from drill attacks
Relocker locks the safe down in the event of attempted brute force entry
Liberty's exclusive, ultra-strong locking bars protect against pry attacks
California DOJ-approved firearm safety device
Available in textured finish Drop handle
Fully upholstered, dual-flex adjustable interior (the Centurion 12 is only available with a gun-setup interior)
Models & Sizing
| | | | |
| --- | --- | --- | --- |
| | 4435615678534 | 4435615776838 | 4435615973446 |
| Long-Gun Storage | 12 | 18 | 24 |
| Gauge of Steel | 14 | 14 | 14 |
| # of Locking Bars | 7 | 7 | 7 |
| Locking Bar Width | 4" | 4" | 4" |
| Locking Bar Thickness | 3/16" | 3/16" | 3/16" |
| Ext. Dimensions H x W x D | 59.5" x 18.25" x 16" | 59.5" x 24.25" x 20" | 59.5" x 28.25" x 20" |
| Exterior Cubic Feet | 10.1 | 16.7 | 19.4 |
| Int. Dimensions H x W x D | 56" x 16.25" x 10" | 56" x 22.25" x 13.5" | 56" x 26.25" x 13.5" |
| Interior Cubic Feet | 5.3 | 9.7 | 11.5 |
| Min Doorway Required | 18" | 22" | 22" |
| Weight | 245 lbs. | 336 lbs. | 375 lbs. |
MEASUREMENTS: Measurements and dimensions are + or - 1/8" to all measurements for manufacturing variances.
DIMENSIONS: Dimensions listed are for the safe footprint and are rounded up to the nearest quarter inch. To be sure the safe will fit in your space, add ¼" to the depth for the outlet kit, 1.5" for a plug, and 1.75" for the handle.
GUN COUNT: Gun capacity may vary depending upon size of guns and scopes.
Liberty reserves the right to change or update product specifications, colors and model sizes at anytime.
Made in the U.S.A. from U.S. and Global Parts.
Centurion
Economy Pricing, Trusted Protection
---
Like its namesake, the Centurion gun safe by Liberty is ready to take charge. It boasts a number of our top security features at a price that won't break the bank. If you have a limited budget or storage space, choose the Centurion to protect what you value most. This security safe includes layers of fire-board in the ceiling, walls, and doors - achieving a 62,000 BTU heat resistance and securing its position as a 30 minute fire rated safe. The Centurion has the minimum level of recommended fire protection - other Liberty Safes offer more layers of fire-board and longer fire ratings. For those seeking an entry-level fire safe box, the Liberty Safe Centurion is a great way to get started securing firearms, valuables, and documents.
🇺🇸 Made in the USA • Lifetime Warranty 🇺🇸
---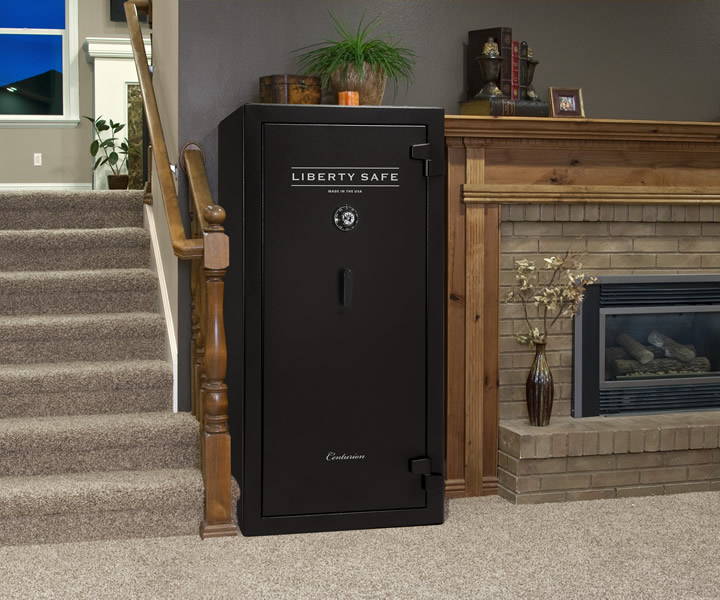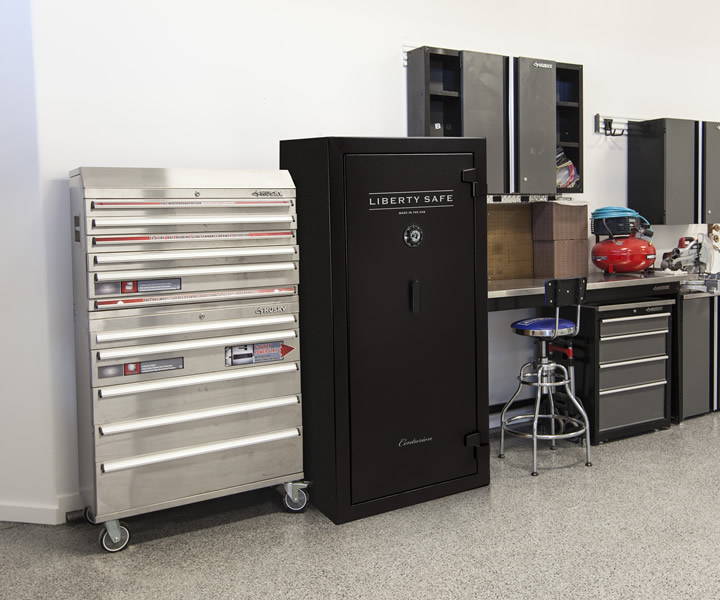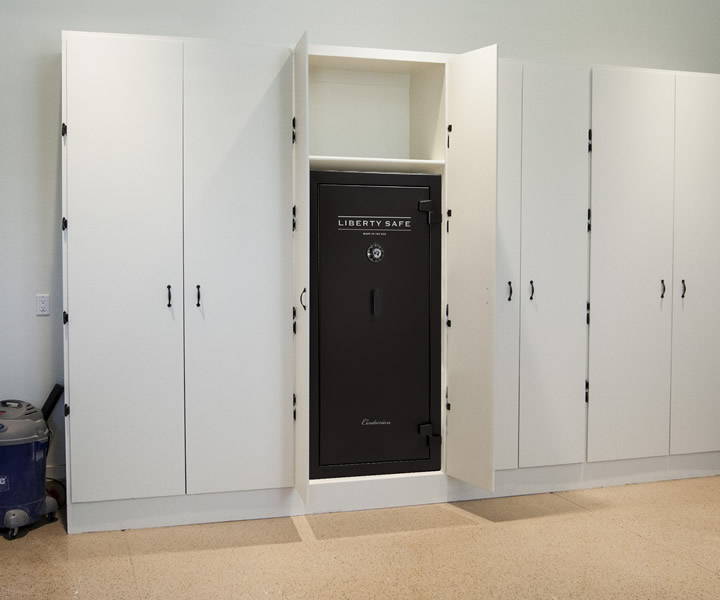 Our most affordable full-size safes, the Centurion line offers solid Liberty-brand protection at a lower price, including:
30 minutes of certified fire protection
14-gauge steel safe body
10 - 3/16" thick locking bars
Gun Only or Dual Flex interior
For another entry level heavy duty gun safe, take a look at our USA series.
---
---