Reviews
Classic Select Extreme 60
Specifications
90 minutes of certified fire protection at 1200º F
Palusol heat-activated door seal expands to protect against smoke and heat
UL listed safe body
Premium, UL listed Sargent and Greenleaf mechanical lock (electronic lock also available)
3/8" solid steel plate door
Ball-bearing hardplate to protect the lock from drill attacks
Triple relockers lock the safe down in the event of attempted brute force entry
Liberty's exclusive, ultra-strong locking bars protect against pry attacks
Slip-clutch mechanism protects against forced entry
California DOJ-approved firearm safety device
Premium door storage panel
Available in textured, marble, and gloss colors
5-spoke Suretight handle available in multiple finishes
Fully upholstered, top-of-the-line 4-in-1 Flex™ adjustable interior (Classic Select Extreme comes with a 6-in-1 Flex™ adjustable interior)
Automatic on/off motion activated interior lighting
Available with stylish woodgrain vinyl shelves
Models & Sizing
| | |
| --- | --- |
| | 4439060643910 |
| Long-Gun Storage | 72 |
| # of Locking Bars | 18 |
| Locking Bar Width | 4" |
| Locking Bar Thickness | 3/8" |
| Steel Thickness | 10 Gauge |
| Exterior Dimensions H x W x D | 72.5" x 50" x 27.75" |
| Exterior Cubic Feet | 57.7 |
| Interior Dimensions H x W x D | 67" x 45" x 18.5" |
| Interior Cubic Feet | 32.3 |
| Min. Doorway Required | 30" |
| Weight | 1516 lbs. |
MEASUREMENTS: Measurements and dimensions are + or - 1/8" to all measurements for manufacturing variances.
DIMENSIONS: Dimensions listed are for the safe footprint and are rounded up to the nearest quarter inch. To be sure the safe will fit in your space, add ¼" to the depth for the outlet kit, 1.5" for a plug, and 3" for the handle.
GUN COUNT: Gun capacity may vary depending upon size of guns and scopes.
Liberty reserves the right to change or update product specifications, colors and model sizes at anytime.
Made in the U.S.A. from U.S. and Global Parts.
National Classic Select
A Classy Gun Safe that is Built to Last
---
Liberty National Classic Select Safes are available in marble and gloss finishes. Classic Select is available in four sizes, including our newest model - the Classic Extreme 60 Wide Body safe. These security gun safes come standard with 90 minutes of fire protection and a 3/8' solid steel plate door and external hinges.
🇺🇸 Made in the USA • Lifetime Warranty 🇺🇸
---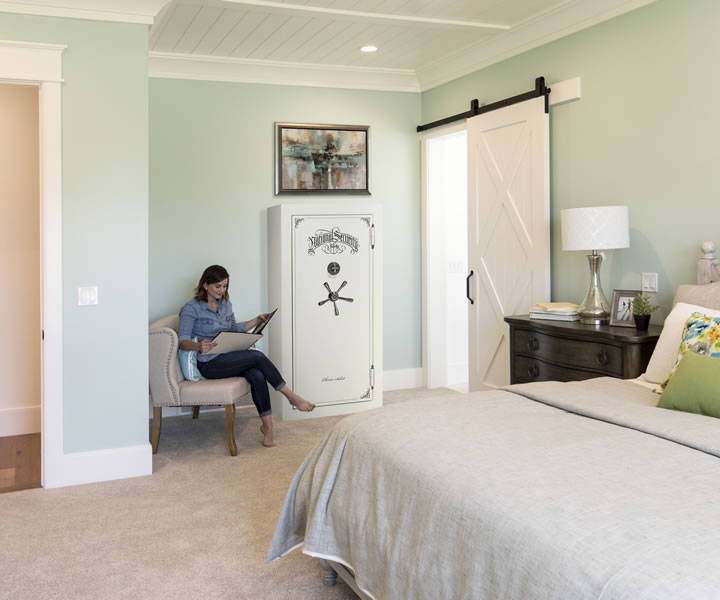 These high-end safes are some of the best that Liberty has to offer. They include:
90 minutes of certified fire protection
5-spoke handle
11-gauge steel safe body
Up to 18 3/8" thick locking bars
4-in-1 Flex™ interior
The National Classic Select models also include these features and accessories:
Clearview LED wand light kit
Electrical outlet kit
Jewelry drawer (is not included in Extreme 60 model)
Premium Door Panel
12" dry rod dehumidifier
Additionally, the Extreme model also features these upgrades:
6-in-1 Flex Interior
10 pack rifle rods starter kit
---
---
*Made in the U.S.A. from U.S. and Global Parts.
---