Reviews
Specifications
60 minutes of certified fire protection at 1200º F
Palusol heat-activated door seal expands to protect against smoke and heat
UL listed safe body
UL listed SecuRam toplit electronic lock (mechanical lock also available)
Three hardened steel plates to protect the lock from drill attacks
Relocker locks the safe down in the event of attempted brute force entry
Liberty's exclusive, ultra-strong locking bars protect against pry attacks
Economy door storage panel
Available in textured colors
Drop handle
Fully upholstered, 3-in-1 Flex™ adjustable interior (Colonial 50 Extreme comes with a 6-in-1 Flex™ adjustable interior)
Models & Sizing
| | | | |
| --- | --- | --- | --- |
| | 4433332273222 | 4433333059654 | 4433333190726 |
| Long-Gun Storage | 30 | 36 | 48 |
| # of Locking Bars | 6 | 6 | 6 |
| Locking Bar Width | 4" | 4" | 4" |
| Locking Bar Thickness | 1/4" | 1/4" | 1/4" |
| Exterior Dimensions H x W x D | 60.5" x 30" x 22" | 60.5" x 36" x 22" | 60.5" x 42" x 22" |
| Exterior Cubic Feet | 23.1 | 27.7 | 32.4 |
| Interior Dimensions H x W x D | 57.5" x 28" x 15.5" | 57.5" x 34" x 15.5" | 57.5" x 40" x 15.5" |
| Interior Cubic Feet | 14.6 | 17.8 | 21 |
| Minimum Doorway Required | 24" | 24" | 24" |
| Weight | 508 lbs. | 564 lbs. | 636 lbs. |
MEASUREMENTS: Measurements and dimensions are + or - 1/8" to all measurements for manufacturing variances.
*DIMENSIONS: Dimensions listed are for the safe footprint and are rounded up to the nearest quarter inch. To be sure the safe will fit in your space, add ¼" to the depth for the outlet kit, 1.5" for a plug, and 1.75" for the handle.
GUN COUNT: Gun capacity may vary depending upon size of guns and scopes.
Liberty reserves the right to change or update product specifications, colors and model sizes at anytime.
Made in the U.S.A. from U.S. and Global Parts.
---
The USA Series is one heavy-duty safe at an affordable price. 2-piece roll form body along with 4-inch military style locking bars qualifies it as one of UL's Residential Security Containers (RSC). Liberty Safe's USA 30, 36, & 48 are each installed with a quality TopLit SecuRam E-lock with red LED lights for better night time vision. These American made gun safes feature 40-minutes of fire protection, economy door panels and 3-in-1 Flex Interiors that are installed to provide peace of mind and flexibility for your valuables.
🇺🇸 Made in the USA • Lifetime Warranty 🇺🇸
​
---

Survivor of the "1000 lbs. Drop Test," the USA line offers entry-level pricing with premium protection, including:
40 minutes of certified fire protection
12-gauge steel safe body
6 - ¼" thick locking bars
The USA models also include these features and accessories:
Economy-style interior door panel
3-in-1 Flex™ interior
TopLit SecuRam E-lock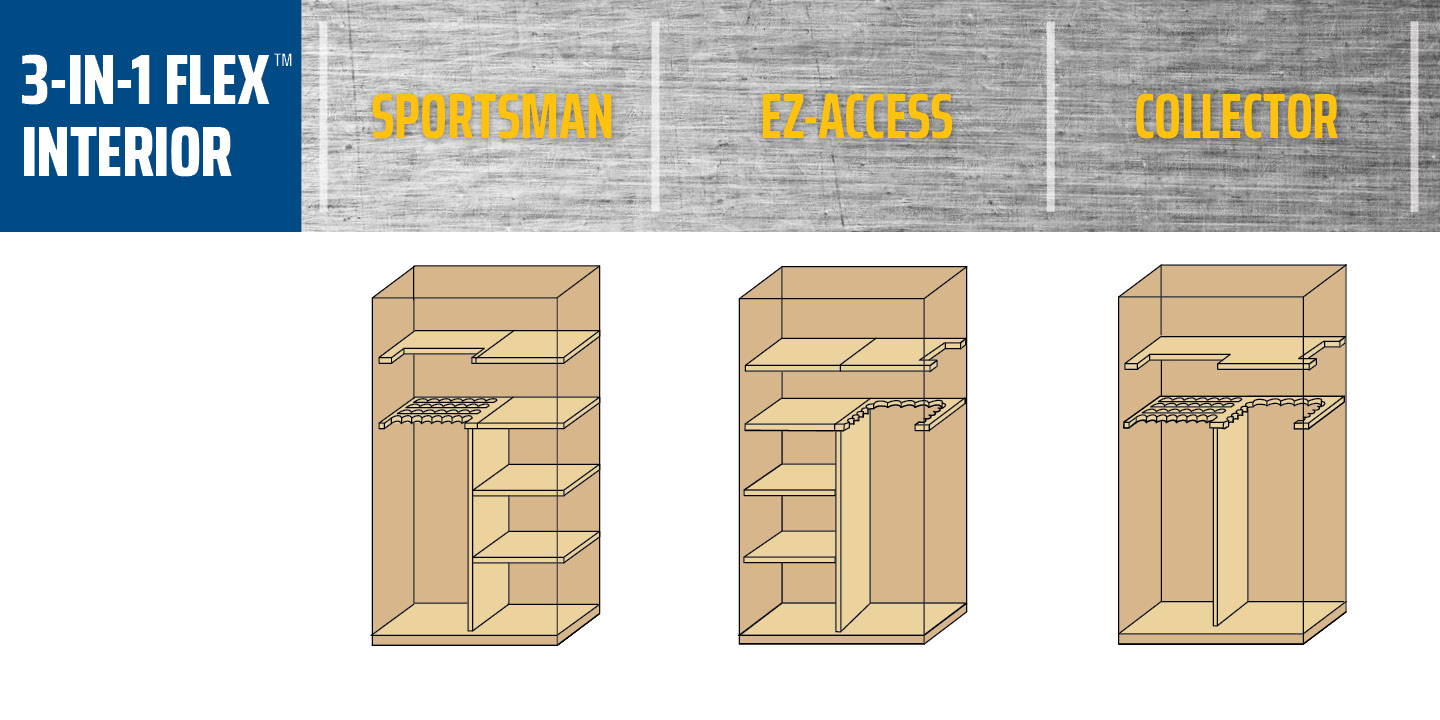 ---
---