Long-range rifle shooting is growing in popularity, at least partially due to the Precision Rifle Series and similar "dynamic long-range shooting" competitions. In addition, long-range benchrest, F-class, and informal target shooting, as well as longer-range hunting, have all garnered increased interest and participation from shooters, and manufacturers of rifles and optics are taking note.
So how do you know what's the right type of long-range scope for you and your desired type of shooting? Let's go over some key factors for you to consider, and then we'll give you our picks for 10 excellent long-range scopes for various shooting disciplines, at several price points.
How to determine the right type of long-range scope for you
Asking "What's the best long-range scope?" is similar to asking "What's the best car?" A useful answer will require some more thought on the subject, and consideration of various factors that are important to you specifically. Before you can pick "the best" long-range scope, you need to nail down your intended use, your budget, and also the following considerations.
MRAD/Mil versus MOA
Like "Ford vs. Chevy," this question will likely go on forever and there's really no right answer. You can think of this question as being similar to "metric or inch" systems of measurement. For brevity, we're not going to go into the guts here, but here's a good explanation of minutes of angle (MOA) versus milliradian (MRAD or "mils") and what each term means. If you have previous experience shooting and dialing minutes of angle, and you don't want to bother with learning the new (and arguably better) system, plenty of great scopes are available in MOA format.
If you aren't already set in your ways or are just getting into the game, we recommend going with MRAD/mils, as it's quicker and arguably easier, and probably 90% of the pros are using MRAD.
Second focal plane (SFP) versus first focal plane (FFP) scopes
For many decades, nearly all American-made scopes were of a second focal plane design, and many traditional hunting scopes and benchrest-target scopes still are. The technical difference between SFP and FFP scopes is that in FFP scopes, the reticle (or "crosshairs") is placed at the first focal plane (usually in front of the turrets) after light enters the objective lens, while a SFP scope will have its reticle at the second focal plane (usually behind the turrets).
In practical terms, the reticle of a SFP scope will look the same size to your eye at all magnifications. The target will grow larger in the viewing window as you increase magnification, but the reticle always looks the same.
In a FFP scope, on the other hand, the reticle changes size as you increase or decrease your scope's magnification. At low magnification, you may not be able to see the fine hash marks or ranging features of your reticle, but as you increase your magnification, the reticle "grows" in size along with the background image.
One advantage of a SFP reticle is that it's always familiar and you don't have to adjust your sight picture or intake of information based on how your reticle looks at a particular magnification. A disadvantage of the SFP design is that any "rangefinding" or windage-hold hash marks or dots will only be accurate at one magnification setting, typically the maximum magnification. So if you're looking through a SFP 5-20X magnification scope at 6 power, the information provided by the reticle won't be easily usable or accurate until you crank up the magnification to 20X.
An advantage of the FFP design is that the reticle is always the same size relative to the target, no matter what magnification you are using. So a .5 MRAD wind hold at 5X magnification will be the same as a .5 MRAD wind hold at 20X. However, as noted above, at lower magnifications in a FFP scope, you may not even be able to see the tiny hash marks on a super-complicated reticle. This brings us to our next factor to consider.
Best optic/reticle for long-range shooting
Do you plan to dial for elevation and windage? Or do you plan to zero and use a ranging, "horus" or Christmas-tree-type reticle in a dynamic Precision Rifle Series type competition? Do you shoot from a bench exclusively, or from field positions? Do you ever plan to use your scope's reticle to estimate range? Do you ever plan to dial for windage? Do you prefer a traditional fine-crosshair reticle that intersects at the center, or do you prefer an open center reticle with a fine dot in the center surrounded by some empty space to obscure less of the target?
A big-game hunter who has determined that her maximum ethical shooting distance, based on her individual capability from field positions, is 350 yards will likely not need a complicated reticle with wind dots and ultra-fine hash marks.
Similarly, a bench rest shooter looking to shoot the absolute tiniest groups on paper targets at known distances will often be best served by a high-magnification, SFP scope with excellent glass, 1/8 MOA click adjustment, and a super-fine crosshair reticle
All of the above factors will influence your choice of the best reticle for you. There really is no "best." It's a matter of preference and intended use. Have a look at the scopes listed below and you can get an idea of what reticles are available, and the pros and cons of the different reticle types. Ideally, look through a few scopes (and in a perfect world, shoot a bunch of different styles) so you can really understand the ins and outs of the different reticle systems.
It's also a good idea to ask around the range or the competition you're interested in getting involved in, speak to some shooters, and get their opinions. Often, real-life feedback from people shooting the sport is more valuable than reading a brochure or website.
Now that we've covered some of the factors to consider when looking into a long-range scope that's best for you, here are some of our picks for top choices in three different price ranges.
Best long-range scopes (when money is not a concern)
One of the first follow-up questions people should ask you when you ask "What's the best long-range scope?" is "What's your budget?" If you're one of those lucky dogs who respond "it doesn't matter," then check out some of our top-tier long-range scope picks below.
Tangent Theta TT525P Gen3 XR

If you ask around a regional or national PRS competition lately, you're going to see a lot of top shooters using the Tangent Theta TT525P Gen3 XR.
Designed for heavy field use, the Tangent Theta 525P combines ruggedness, mechanical precision, and unsurpassed image quality. We love the precise, tactile feel of the elevation and windage adjustments, the informative, illuminated Christmas-tree Gen3 XR reticle, and the truly tool-less re-zero procedure. We also love the quick-adjust and lockable diopter (ocular/focus lens) and Tangent Theta's forever warranty.
If you've got deep pockets (the TT525P has a current street price of around $5,000) and are looking for the best of the best, the Tangent Theta has to be on your short list.
Vortex Razor HD GEN III 6-36x56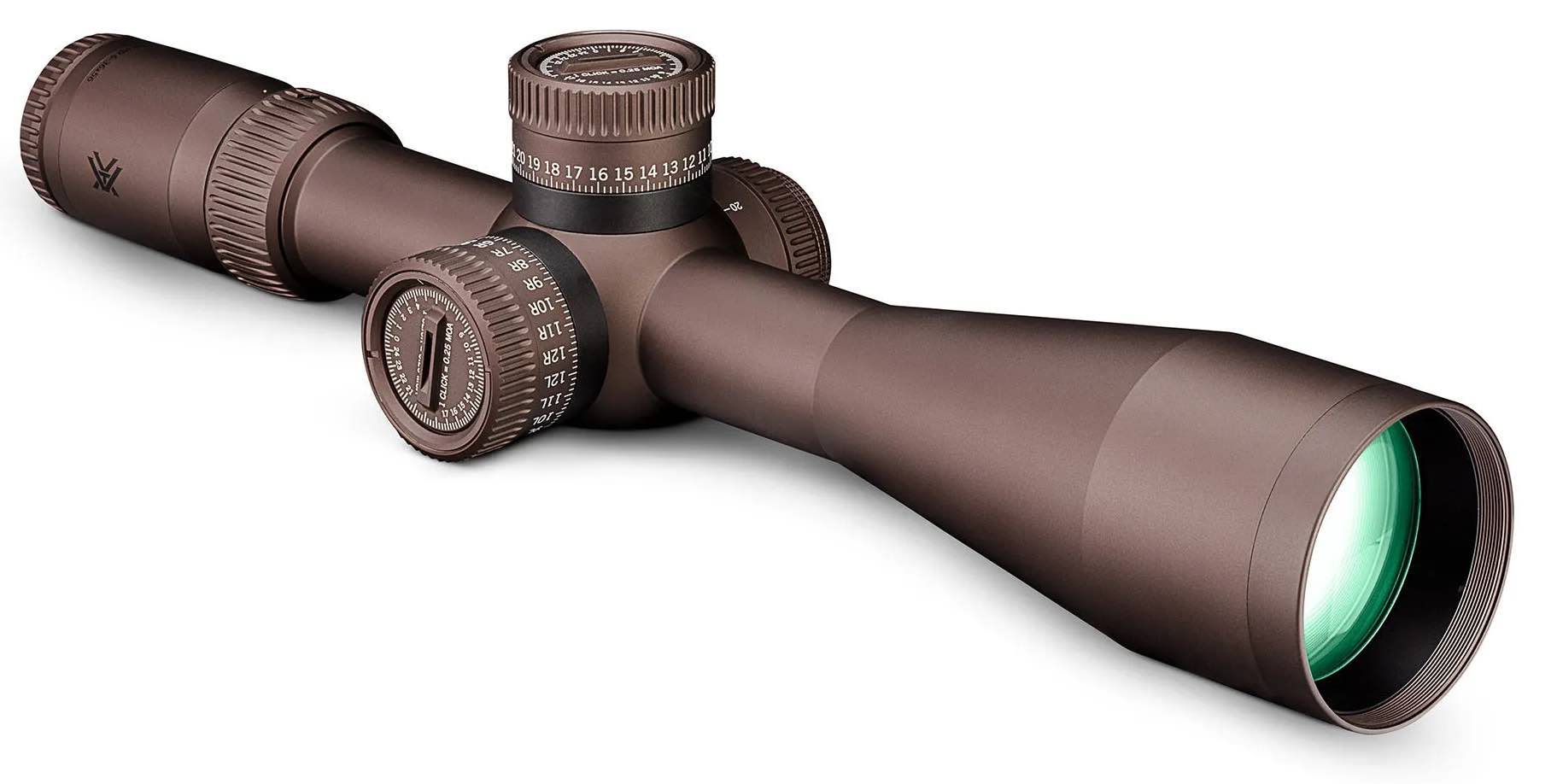 At about $3,000 street price, the Razor HD Gen III is actually at the lower end of the price spectrum for this top-tier group of optics, but Vortex always packs in the features and ruggedness at every price point. In the hotly anticipated third generation of the Razor, the glass, zero stop, turret locking mechanism, and EBR-7D ranging reticle are greatly improved. Infinite zero-setting positions allow you to set your zero between clicks for optimal accuracy. Both the lenses and the scope body are coated with highly durable, scratch-resistant finishes. Clarity and light transmission are excellent, and the Gen III offers a very generous 120 MOA of elevation and 52.5 MOA of windage adjustment, with parallax adjustment from infinity down to an excellent 10 yards.
If you want a "bang-for-your-buck" choice in the premium LR scope market, the Vortex Razor Gen III is tough to beat.
Zero Compromise ZC527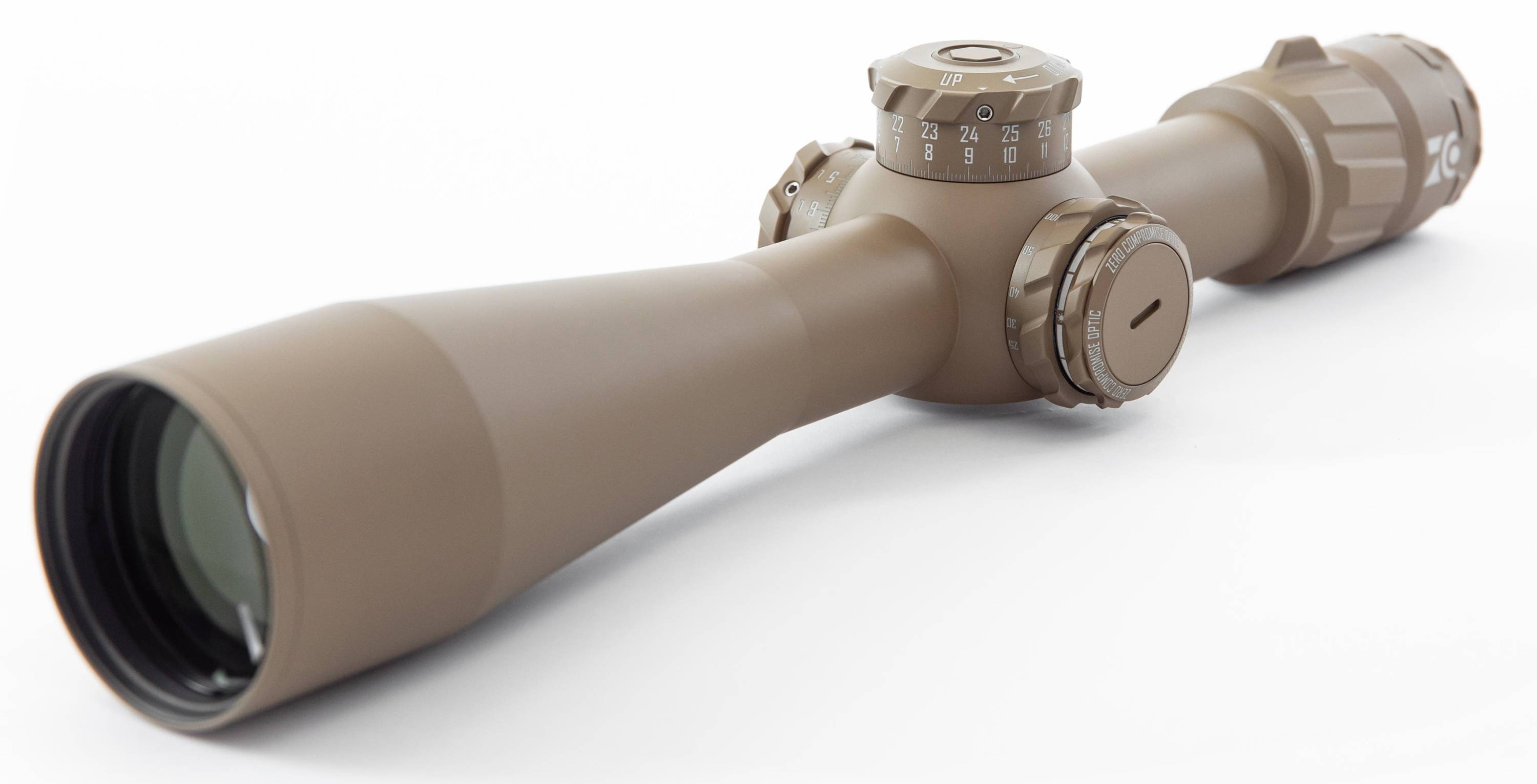 Zero Compromise offers other models with up to 40X magnification, but for our money (and a significant amount of it at around $4K street price), the ZC527 is the Goldilocks of the line. With a 36mm tube, 8 available reticles, a monstrous 35 MRADs (about 126 MOA) of available elevation, red or green illumination, generous field of view, a full list of handy features, and an impressive 92% light transmission, the ZC527 has earned a place in many shooters' safes, and on lots of match podiums.
Kahles K525i DLR

Kahles is known for producing top-quality scopes with excellent glass, and the K525i DLR "Dynamic Long Range" scope is no exception. But this model goes above and beyond in the "helpful features" category, with a patented "twist guard" freely rotating windage end cover that reliably prevents accidental movement of the windage turret (without the need for cumbersome "locking" and "unlocking"), a parallax spinner just below the elevation turret, and left- or right-side windage turrets to accommodate every shooter's preference.
This scope is available in both a "Christmas tree" reticle (SKMR4) and a more traditional crosshair reticle with subtensions (SKMR). Both are illuminated. Be sure to check out this premium option when you are shopping for your next long-range scope.
Best long-range scopes under $2,000
Since most of us live in the real world where dropping 5 stacks on the hottest long-range scope is simply not an option, let's dial it back a little and give you our picks for some of the best scopes between $1,000 and $2,000 (street price).
Leupold Mark 5HD

Leupold's excellent Mark 5HD series is available in several magnifications, various reticles, and either illuminated or not. Some models are selling for over $2K, but there are several good options under the $2K mark if you shop around. With a 35mm tube, 3 full rotations of elevation, 1/10 MRAD or 1/4 MOA clicks, an available zoom throw lever for quick adjustments, and all of Leupold's legendary quality and features, the Mark 5HD is a great choice.
Bushnell Elite Tactical DMR3

Bushnell's Elite Tactical DMR3 is an excellent "serious" PRS-focused scope on the low end of the price spectrum. (Yep, $1,500 is not chump change, but compared to some other offerings in this market, it's a bargain.) Bushnell says it offers the "industry's most forgiving combination of eye relief and exit pupil." We also like the DMR3's 4GP Precision Reticle, for its informative, yet uncluttered Christmas-tree design.
Nightforce BR 12-42X56 NP2DD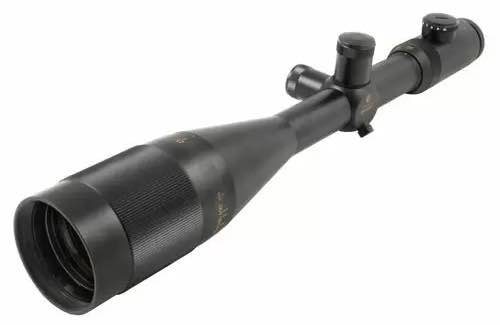 Optimized for benchrest target shooting, the SFP Nightforce BR 12-42x56 goes up to an incredible 42X magnification and according to Nightforce has set "more long-range records than any other riflescope." With a 56mm objective lens, .125 MOA-click turrets, and a coil spring plunger return system for maximum tracking accuracy, the Nightforce BR has two reticles available, depending on whether you prefer an open-center/dot reticle (NP-2DD) or a traditional "target" reticle with ultra-fine hash marks (NP-R2).
Best long-range scopes under $1,000
It may sound ridiculous to some people that it's difficult to get a competitive long-range scope for under $1,000 these days. While priorities and preferences vary, it can still be done if you shop around and are willing to make a few compromises.
Here are 3 of our picks for quality, long-range capable scopes that don't break the bank.
Primary Arms GLx 6-24x50 FFP

Primary Arms started out as a "budget" optics company but has quickly grown in popularity due to the consistent improvement of their product lines, and always offering exceptional value for money. Some of their top-line scopes are now truly world-class, but for under $1,000 we like the GLx 6-24x50 FFP with Primary's excellent ACSS ATHENA BPR MIL illuminated reticle. A bonus feature is this scope is relatively light, at around 24 ounces, compared to some of the other scopes we're discussing. So if you want to keep both your long-range rig and your credit card bill on the lighter side, check out the Primary Arms GLx.
Vortex Viper PST Gen II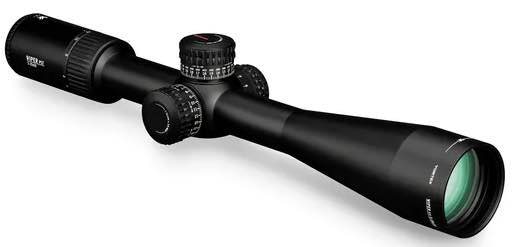 If you're a "go big or go home" or a "buy once, cry once" type of shooter, the new Gen III of Vortex's excellent Razor HD is out, with a typical price of around $3 grand as mentioned above. But the Vortex Viper Gen II has been a top pick for many budget-minded shooters for a lot of years due to its huge value for money and reputation for quality at a reasonable price point.
Loaded with features many shooters look for (see "what features to look for" section below for more), the Gen II Viper PST (available in both FFP and SFP) in 5-25x50 is incredibly versatile, featuring a 30mm tube, illumination with 10 brightness levels (and off positions between each "on" setting), laser etched turrets, zero stop, rotation indicator, and a highly functional "Christmas tree" reticle that is both informative and not too cluttered.
If you don't really want to dig deep into the details and just want "a really capable, durable long-range scope" for less than $1,000, this would be our first pick for anything but purely benchrest/paper target use (in which case you don't want or need the Christmas-tree reticle with wind and elevation holds).
Burris XTR II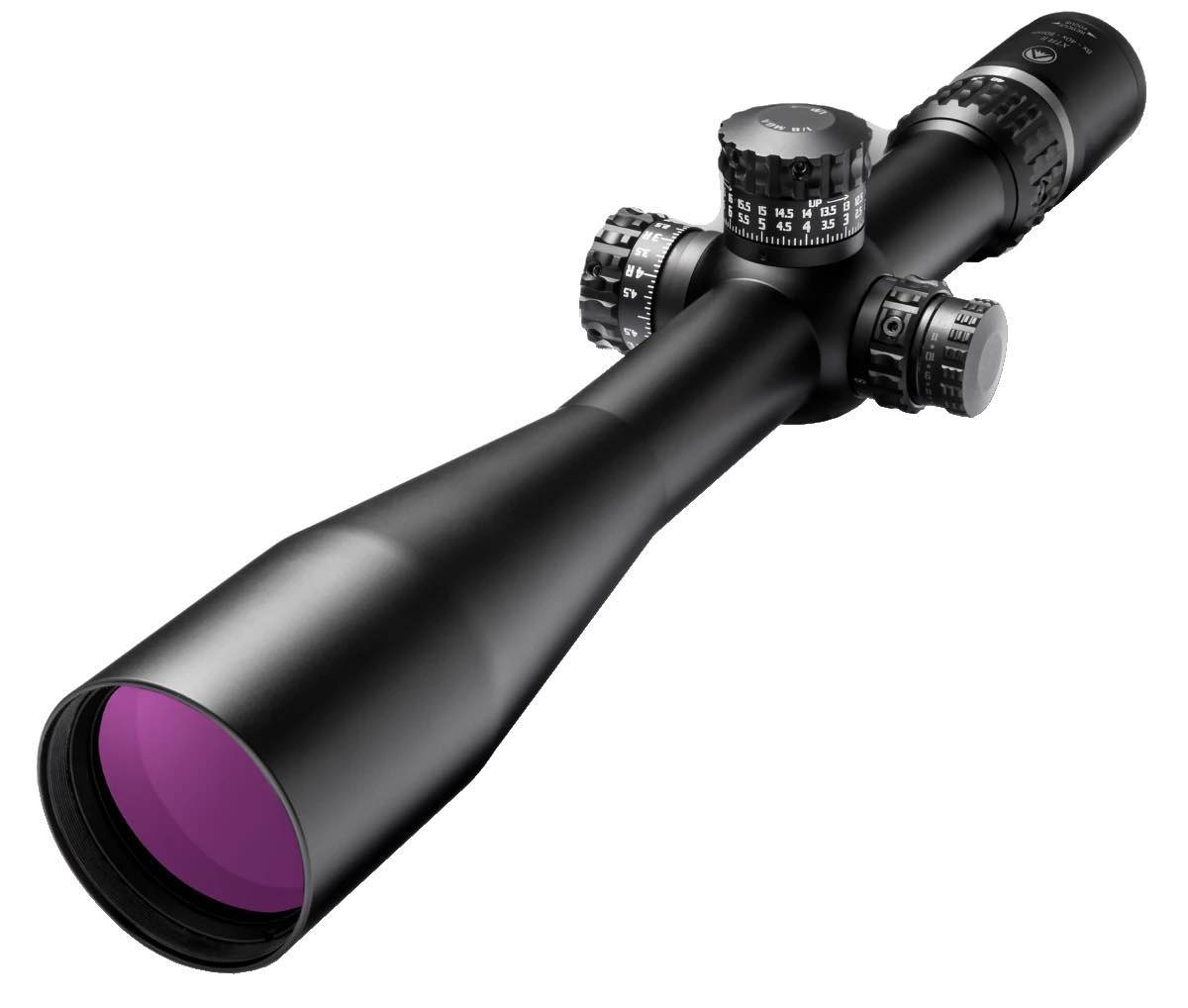 The XTR III is out, and of course, is a few hundred bucks higher in price (and has better glass and more features). But for a "reasonable budget" scope with a street price of around $900, the Burris XTR II has a lot to offer. It's available (at least from several retailers) in both FFP and SFP variants, in both illuminated and non-illuminated models, and you can even get the F-class MOA reticle optimized for F-class competition shooting. Check it out.
How much should a long-range scope cost?
This is an interesting and nuanced question, akin to "how much should a car cost?" to use our previous analogy. Everyone has a different opinion on what is a "reasonable" amount of money to spend on a long-range scope.
However, if you ask most top long-range shooters, they'll tell you that in most cases they spent at least as much on their scope as they did on their rifle, and in some cases several times more.
Experienced shooters know that quality optics can make a huge difference. In very basic terms, it's generally cheaper and easier to make a suitably accurate rifle than it is to make an extremely clear, accurate scope.
So, most long-range shooters would recommend that if you spent $1,000 on your long-range rifle, you should expect to spend at least $1,000, but more likely $2,000+, on some quality glass. If you spend $5,000-$8,000 on a rifle guaranteed to shoot 1/4-MOA groups with match ammo, you probably shouldn't put a $250 scope on it and expect optimal results.
Knowledgeable shooters generally prioritize glass quality (and accuracy of tracking) above super detailed features like .2 or .25-mil windage hash marks on the reticle. In other words, given the choice between a scope with .2-mil hashes with suboptimal glass, and scope with better glass but with .5-mil hash marks, most practical shooters will take the better glass.
Quality scopes are expensive, but as the man said, you get what you pay for.
What features to look for in a long-range scope
Again, the features you prioritize may be different from the features another shooter prioritizes, depending on your personal preference and intended use of your long-range scope. However, for the majority of shooters, the features listed below will be welcome, and for many people, they are absolute requirements.
Reliable tracking (this is a must)
Tracking refers to how accurately your scope mechanically "tracks" your turret adjustments and your point of impact. A basic "box" tracking test is easy: shoot a group at 100 yards, on the lower left area of a large paper target, with vertical/horizontal index lines or crosshatches at 1-inch intervals. Dial 3 mils (or 11 MOA, depending on your scope) elevation, and using the same aiming point as your original group, fire another group. Then dial 3 mils (or 11 MOA) right windage, and shoot another group (using your original aiming point). Then dial 3 mils/11MOA down, and shoot your final group, using your original aiming point.
(Note: 3 mils or 11 MOA is an arbitrary number that keeps the size of the "box" reasonable for most large paper targets. It doesn't matter how much elevation and windage you dial for your particular test, as long as it's consistent and your target is large enough to capture all your groups. Generally, the larger your dialed adjustments, the more informative the box tracking test will be.)
If all goes well, your groups should mark the corners of a perfect square, consistently aligned with the elevation and windage you dialed. If any of your groups are not where they should be, you may have a scope that's not tracking properly.
Another way to test scope tracking that's more useful for long-range shooting (as well as verifying that your bubble level, rifle, and scope are all level with each other, which is crucial) is the "tall target" test. Here's an excellent video detailing how the tall target scope tracking test works, including calibrating any correction factor.
Non-capped, externally adjustable turrets
For dynamic, "practical" long-range shooting like PRS-type competition or similar, you'll likely be zeroing your rifle (or at least confirming zero) frequently, and may be dialing for elevation and possibly wind holds depending on what situation you're in. You don't want to be fiddling around with removing turret caps/covers, using tools to lock/unlock/adjust your turrets, or any of that nonsense.
Many scopes have lockable, externally adjustable turrets, so if you're worried about your zero getting messed up from something bumping a turret in your rifle bag or case, you can lock them down for transport and unlock them for a match/hunt.
Some "tactical" or long-range scopes have a non-capped turret for elevation (usually with a zero stop—see below), and a capped turret for windage. This can make sense for some users, since elevation is the adjustment most likely used, and it could be said that the windage knob on the side of the scope has the potential to be banged off of zero more often. Many top shooters rarely if ever dial for wind.
If it's an MOA-reticle scope, the adjustments/turrets shouldn't be in mils, or vice versa
Yep, this is actually a thing. Some scope manufacturers have sold models with MRAD-based reticles, but have (for economic or other reasons) included MOA-click adjustment turrets. If you have one of these scopes and are dialing for elevation or windage on the fly (say, in a PRS match), you have to do mils-to-MOA conversion math (or vice versa) every time you make any adjustments. It's not the end of the world, and you can get used to it, but when you're spending lots of money on a long-range scope, you shouldn't have to mess with that.
Quality glass for clarity and light transmission
Looking through a $3,000 scope and a $400 scope side-by-side in identical lighting situations, the difference is clear, literally. High-quality lenses will produce a high-resolution image that is clean, bright, sharp, and consistent all the way to the very edges of the lens.
Lower-quality scopes often look a little fuzzy or distorted around the edges, or even shadowy or grainy. Sometimes the cheaper coatings can make the image look a bit blue when looking through the scope.
Adequate available elevation adjustment for your selected shooting distance and cartridge
When you start shooting out to 800, 1,000, 1,500 yards and more, you may run out of elevation adjustment, depending on your specific cartridge, rifle, rail, rings, and scope setup. Many of the scopes we've mentioned have 120 MOA or more of available adjustment, and a lot of long-range-specific rifles and chassis are offered with built-in 10 or 20 MOA rails or scope bases to get some of that adjustment range back. You can even get rings with 20 MOA built-in elevation.
But if you're shooting a cartridge/bullet that has a lot of drop at longer ranges, be sure to get a scope with a lot of available mechanical elevation adjustment, or you'll be hating life.
Sufficient ocular lens (focus) adjustment for your eye, and separate parallax adjustment
The rear portion of your scope, the eyepiece containing the ocular lens (sometimes called the focus lens), should allow sufficient focus adjustment for your particular eye. Depending on your preference of shooting with or without prescription lenses or contacts, some scopes may not allow sufficient adjustment for razor-sharp reticle focus.
Some scopes may not even have a separate focus adjustment for the ocular lens, but it will be set at the factory.
Ideally, you want to be able to adjust the ocular lens (focus) so the reticle is razor sharp for your eye, and then have a separate parallax adjustment (typically a turret or knob near the elevation and windage turrets) so you can fine-tune your parallax for a crisp view of the target at any range.
If possible, try out any potential scopes at a qualified retailer before buying so you don't get stuck with a combination that doesn't work perfectly for you.
Positive zero (or sub-zero) stops and rotation indicator
Schmidt and Bender offer a "sub-zero" stop feature that allows you to go from 2 up to 6 clicks below your zero, in case you need to dial for closer ranges without completely re-zeroing for elevation, or for whatever other reason you want the availability of some clicks below your zero. The Vortex Razor HD Gen III is built with 5 clicks below zero, and most high-end scopes are similar.
A rotation indicator is handy when you're dialing multiple rotations of the elevation turret quickly, and you want to come back to your zero quickly. A rotation indicator tells you when you are on the "bottom" rotation, which is where your zero will be. This also helps you not slam hard against your zero stop.
Available in the reticle you want/open center reticle
Generally, high-end LR scopes are available with several reticle options, and often in both second- and first-focal-plane variants. However, if you're in love with a particular style of the reticle (say, a specific horus variant or "Christmas-tree" type of ranging reticle), it may not be available in the exact model of scope you want. So you may have to choose a different model or even a different brand of scope, which isn't necessarily a bad thing.
For PRS-type shooting, many people prefer an "open-center" reticle with a fine dot in the center surrounded by some empty space to obscure less of the target and surrounding area. For static benchrest/paper target shooting, many shooters prefer a more traditional, fine-crosshair reticle.
In an ideal world, you should be able to get the exact scope and features you want, with the reticle you want.
How do I get into long-range shooting?
The best way to get started is to… just get started. If you want to shoot PRS-type events, look up the schedule and see if there's a match close to you, and go check it out. Even if you don't shoot, you'll learn a lot and you can see how things work.
If you want to try shooting long range from a bench, look up long-distance rifle ranges in your area, or if you live in a place with lots of open country available for public use, go set up some targets at 500, 600, 800 (or longer) yards and see how you can do with your current rig. If you find your scope isn't up to the task, check out some of the scopes mentioned above.
One good way to get an introduction to long-range rifle shooting is to take a class. Check out our article on LRSU's introduction to long-range shooting course to get an idea.
Keep your long-range rifles and scopes in a Liberty safe
As you can see, long-range rifle shooting isn't cheap, and quality glass is just part of the equation. A winning rig might cost $6,000 up to $10,000 or more, and most serious shooters don't have just one rifle. So be sure to keep all your firearms and other valuables in a USA-made, fire-resistant Liberty safe for peace of mind. Check out our full line of gun safes online, or find a dealer near you.

*Made in the U.S.A. from U.S. and Global Parts.