Military or tactical team members, preppers, and even role-play enthusiasts may be interested in plate carriers as a key part of their gear. There are a lot of companies making plate carriers, so the choices can become overwhelming without a little guidance. In this article we're going to go over the basics of plate carriers, what makes a good one, and list a few of our top choices for various uses at different price points.
What is a Plate Carrier?
A plate carrier is a garment designed to be worn by the user for ballistic protection against gunfire from many rifles as well as handguns and shrapnel. Sometimes known as a ballistic plate carrier or armor plate carrier, the carrier itself offers no protection, but includes internal pouches or bags that hold hard armor plates on the front portion at a minimum and also often on the rear and sides of the carrier "vest."
A plate carrier differs from a "bulletproof vest" in that the latter is soft armor, designed for comfort, and may even be worn beneath clothing. A plate carrier may be worn over a bulletproof vest in some cases.
Bulletproof vests are flexible and more comfortable, but generally won't stop rifle rounds, and some handgun calibers may make it through some types of soft body armor.
Ballistic plates are normally classified as hard body armor. They will in most cases be either threat level III or IV. Armor plates can be made of polyethylene (PE) material, steel, or ceramic, or a combination.
Level III ballistic plates offer protection against up to 6 spaced hits of standard and steel-jacketed FMJ rifle projectiles at velocities up to 2,780 feet per second, including the 7.62x51 NATO (.308 Winchester equivalent) M80 ball cartridge. Level IV plates are rated to prevent penetration of a minimum of one hit of .30-06 M2 AP (Armor Piercing) bullets.
Different Types of Plate Carriers
There are hundreds of different plate carrier designs, but generally they can be categorized into one of the following types:
One-piece.

This type is usually the least expensive, but can still be very functional and comfortable. The front plate bag/panel, rear plate bag/panel, and cummerbund may be all sewn together or otherwise connected in a way that makes them not easy to separate. It may or may not have quick-release (QR) pull tabs or buckles. You generally won't be able to choose different types of cummerbunds or front/back panels. This type is good for users who want a basic setup without having to select a bunch of different components, or who find that the features of a particular rig are right for them out of the box.

Stripped, but customizable.

Most plate carrier rigs fall into this category. A plate carrier will typically come "stripped" of pouches, bags, danglers, and pockets, since most buyers will want to select these components depending on their particular preferences and mission. Usually there's either lots of velcro-type material, MOLLE webbing, laser-cut MOLLE slots, or another attachment system that allows you to pick and choose what gear you want to strap to your rig. However, you may be able to choose the type of cummerbund, buckles, and/or back plate bag that's included, among several options.

Fully modular.

A modular system will have the capability to be fully customized to the user's preference even before purchase, or by buying the desired components separately and piecing together a rig the way you want it. Usually this is a more expensive option. You might select a front plate bag that has a ton of MOLLE webbing for customization, but you might not need the same feature on the back panel, and could opt for a plain rear plate bag. You might favor elastic, velcro cummerbunds, or you might want a heavier-duty system with provision for side plates and/or pouches. Many modular systems allow you to zip on or off a backpack section for bulkier gear. It all depends on your selected mission.

All-included.

As noted above, the vast majority of plate carriers come "stripped" of pouches and other doo-dads, since most buyers will want to choose this stuff themselves. But some retailers offer "all-included" or "fully loaded" rigs that come with bags, mag pouches, and other common add-ons already installed in the most common configurations for people who don't want to screw around with having to buy and attach all that stuff, or for people who just want to look like they know what they're doing.
Different Types of Plate Carriers
The features that you should look for in a plate carrier will depend a lot on your intended use. If you are in a military, law enforcement, or other tactical environment, your needs will be a little different from an airsoft LARP enthusiast or a casual prepper who just wants a plate carrier for "end of the world" type scenarios.
However, there are some general characteristics that make a good plate carrier, regardless of your specific use:
Good stitching.

The quality of the thread and stitching is what holds your entire rig together. Particularly on lower-budget carriers, watch out for loose threads, busted seams, messy stitching, and single-stitched areas where they should be double-stitched (at least).

Durable fabric, straps, elastics, etc.

The primary fabric, particularly on weight-bearing areas, should be at least 500 denier nylon (Cordura-type). 800 or 1000D is heavier and tougher, but won't be as light nor as comfy, so it'll be a balancing act to get the setup you prefer. Velcro-type (hook-and-loop) panels should be durable and adhere well to each other for many repetitions. Any elastic pulls, zippers, or clips should be high quality and compatible with your desired accessories.

Fits the plates you want to use.

Obviously the main point of a plate carrier is to, you guessed it, carry ballistic plates, otherwise you can just run a tactical vest, chest rig, or war belt. If you can't fit the plates you intend to use into your proposed carrier, that ain't gonna work. Some carriers are limited to 1" thick plates, while others go up to 1.5" or more. Check carefully and ideally test-fit your plates before buying a carrier rig.

Adaptability.

If you need a plate carrier that can act as a stripped-down, minimalist rig that might even be utilized under a jacket, but you sometimes need a full loadout with space for all your gear, hydration, comms, and tactical Twinkie pouches, look for slimmer, adaptable designs with your preferred gear attachment system.

Comfort.

If you plan to spend any time at all in your plate carrier, you'll appreciate the little touches like hidden seams at high-friction areas, durable padding in the shoulders, articulated and/or adjustable straps throughout, and good ventilation under the plate bags.

Reasonable cost.

This is a relative term and only you will be able to determine what's a good price for you. However, some rigs give you more for your money, and some rigs just cost a lot.
What are the Best Plate Carriers?
There are literally hundreds of plate carrier companies out there, and it's not possible to review them all. However, here is a list of some of our favorites we think you should consider, and why.
Ferro Concepts Slickster
Ferro Concepts Slickster is a minimalist, lightweight design and is our pick for most concealable plate carrier for low-profile or clandestine operations. It can be up-featured with any number of pouches, danglers, pockets, and doo-dads using the ADAPT accessory system, but where the Slickster shines is when you want to keep your plate rig as low-pro as possible. Available in 6 colors for $160 MSRP.
Pros:
Extremely light at around 0.8 pounds

Adaptable from very basic gear belt setup to full loadout

Moderately adjustable shoulder straps (into the rear bag)

Robust and easy velcro cummerbund system with quick-pull tabs can be used over or under a mag pouch placard

Mesh-lined plate compartments front and rear
Cons:
No quick-release shoulder buckles

Shoulder straps require separate purchase of pads when using a heavy loadout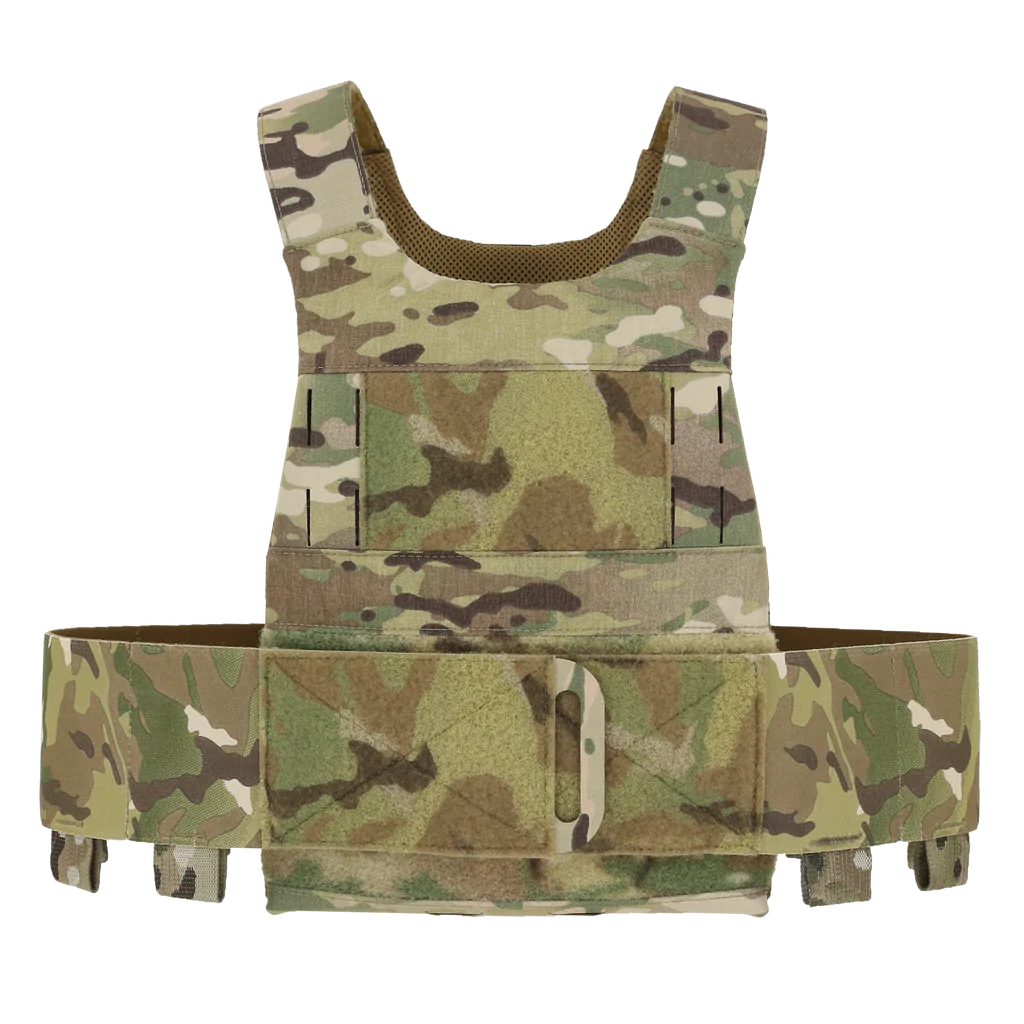 Crye Precision JPC 2.0
The Crye Precision JPC 2.0 or "Jumpable Plate Carrier" is a top choice for a minimalist plate carrier. It's almost as light as the Slickster at 1 pound, but has all the modular features and adjustability you might want if you need a flexible rig. We really like the stretch-paneled plate compartments and Crye's intuitive, 2-step emergency doff system. 7 available colors, for about $241 MSRP.
Pros:
Very light at around one pound

Minimalist design enhances mobility

Fully adjustable shoulder straps and cummerbund to fit any body type

Easily customizable with numerous accessories ranging from mag pouches to side plates, zip-on panels, various flaps, and more

Emergency doff system can get you out of your rig in two easy steps

Stretch panels along the sides of the plate compartment accommodate any common thickness of armor plate

Made in America from American materials
Cons:
Somewhat expensive for what you get

Minimalist design means some features are either missing or need to be added for more cost and bulk
Velocity Systems Scarab LT
The Velocity Systems Scarab LT is a popular rig among actual operators and military users, and is our pick for the best plate carrier for heavy loads or a full combat loadout. The patented swiveling shoulder strap design helps distribute the weight well and allow for shooting from unconventional positions while not binding or restricting movement too much. If you're going into harm's way and you want to carry thick, heavy plates and a bunch of gear, Velocity Systems can set you up for $338.00 MSRP (some cummerbund options add up to $370 total).
Pros:
Holds hard plates up to 1" thick

Super comfy

Carry

all the things

Excellent ventilation

4 cummerbund options including low-profile elastic and side plate pocket versions

100% made in the USA

Battle-ready and durable
Cons:
$$$

4-6 week lead time (currently)

The zip-on backpack panel is capacious but adds another $120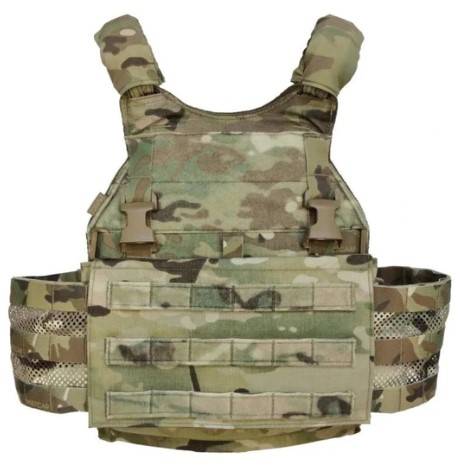 Spiritus Systems LV-119
Our award for most modular plate carrier goes to the Spiritus Systems LV-119. A ground-up rethink of what a modular plate carrier system can be, the LV-119 starts with a "minimalist" front plate bag ($110 for the "OVERT" version) but requires the additional purchase of a rear plate bag ($79-$110) and cummerbund ($64-$100) to function as intended. Once you have those, this slim rig can potentially be worn under a jacket, depending on the add-ons you choose. Those add-ons are the guts and gravy of this system, and you'll either love or hate Spiritus Systems by the time you're done. Every additional feature/part is an additional purchase at additional cost, and getting the exact bits you want in the color you want can be maddening. But if you have dough to burn, time to wait, and you like modularity, Spiritus Systems might be the right choice for you.
Pros:
Extremely modular (assuming parts are in stock)

Very comfortable

Hidden wire routing for comms/electronics

High quality material and construction

Front plate bag pocket bottom flap velcro connects on the inside, to allow for variability of plate sizes, up to 1.2" thick

Available quick-detach (QD) "MOLLE Tubes" cummerbund system, where you can easily slip the "tubes" on or off when donning or doffing the rig, or in case of injury/tangled gear
Cons:
The modular, build-it-yourself concept means that you get very little for the basic carrier, and you can spend big bucks getting your rig how you want it

Rear plate bag is a required separate piece, at an additional cost (around $110)

No MOLLE webbing on the front; you need to run velcro placards (which many people prefer nowadays)

MOLLE panel for the back plate bag is an additional $70 add-on

Extremely annoying cummerbund attachment system where you have to weave the ends into the carrier panels manually using nylon cord

Zippers and attachments are proprietary and only really work with Spiritus stuff

No QDs available for the shoulder straps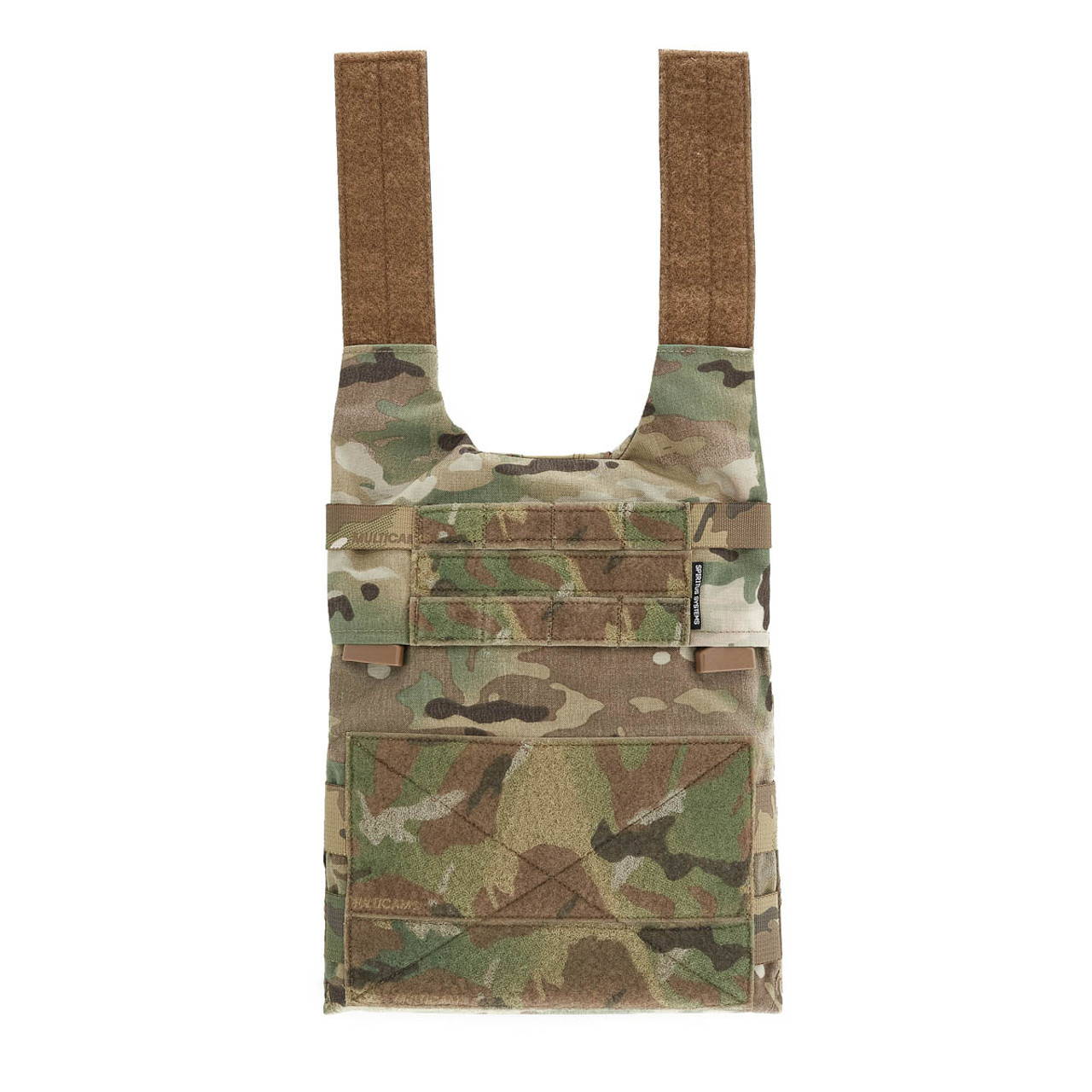 LA Police Gear Atlas
The LA Police Gear Atlas is our pick for best budget plate carrier. It's built to a ~$90 price point out of 500D nylon, but it has some nice features that aren't included on some carriers at 2-3X the price. Primarily, the shoulders, front, and back panels are nicely padded and fully adjustable, even for super-tall dudes and ladies. The front, back, and sides of the rig are covered with laser-cut MOLLE slots rather than sewn-in loops to save cost, with the top portions of the front and back sections equipped with velcro-like material. It's a basic rig and you'll have to add whatever pouches/placards you want, but most other plate carriers require the same. For the price, it's hard to fault the LAPG Atlas.
Pros:
Quick-release shoulder buckles

Lots of adjustment for shoulder strap length (great for tall people)

Padded throughout

Tons of MOLLE space

Adjustable, removable cummerbund

Included, heavy-duty drag handle
Cons:
Front and back padding is not perforated/ventilated, so it can get hot in summer

Putting the rig on requires LOTS of velcro tearing/flaps

Shoulder adjust straps aren't sewed down so they can flop around

Shorter people may have to remove shoulder padding to get the adjustment they need

6-row MOLLE arrangement on the front may limit some users who prefer 8-row setups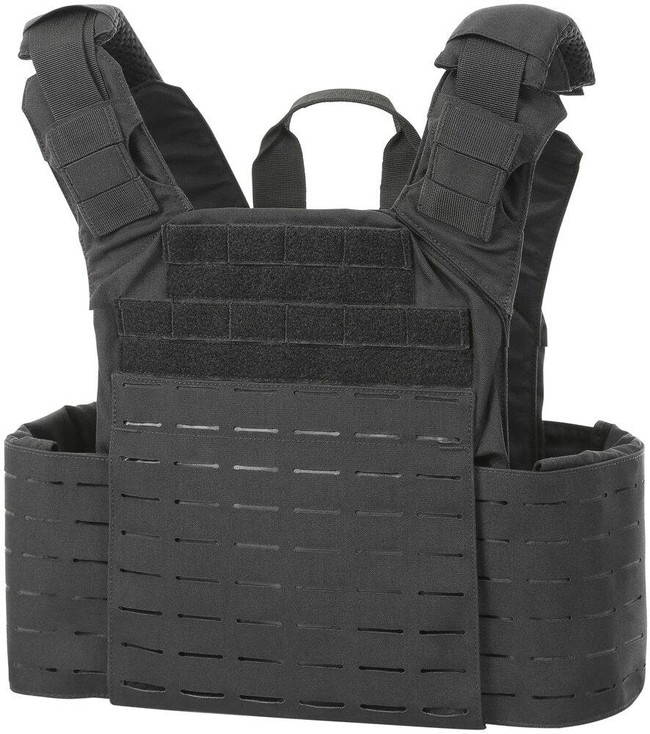 Agilite K19 3.0
We might be saving the best for last: Many users find the Agilite K19 to be the most comfortable plate carrier they've ever tried, and is our pick for most comfortable plate carrier. It was designed for and is in use by the Israeli military, and they spend a lot of time in hot places in full gear. It's loaded with nifty features, fully padded and ventilated, and features durable and functional quick-release attachments at the shoulders and front of the cummerbund. With 6 colors available at a fairly reasonable $289 MSRP, considering the features you get, the Agilite K19 3.0 is hard to beat.
Pros:
Excellent padding; super comfortable

Fully ventilated

Industry-best quick-release system for rapid egress

Proprietary Fast-Adjust™ one-size-fits-all cummerbund that can be adjusted and fine-tuned in real time, by the wearer

Super-cool velcro panels that are also laser-cut for MOLLE, so you can run either velcro placards, MOLLE gear, or both on the same panel

Both left and right quick detach buckles are removable so that you can replace them with minimalist slide buckles (included) for an even lower profile that's better for shouldering your rifle
Cons:
Not discreet, if that's an issue for you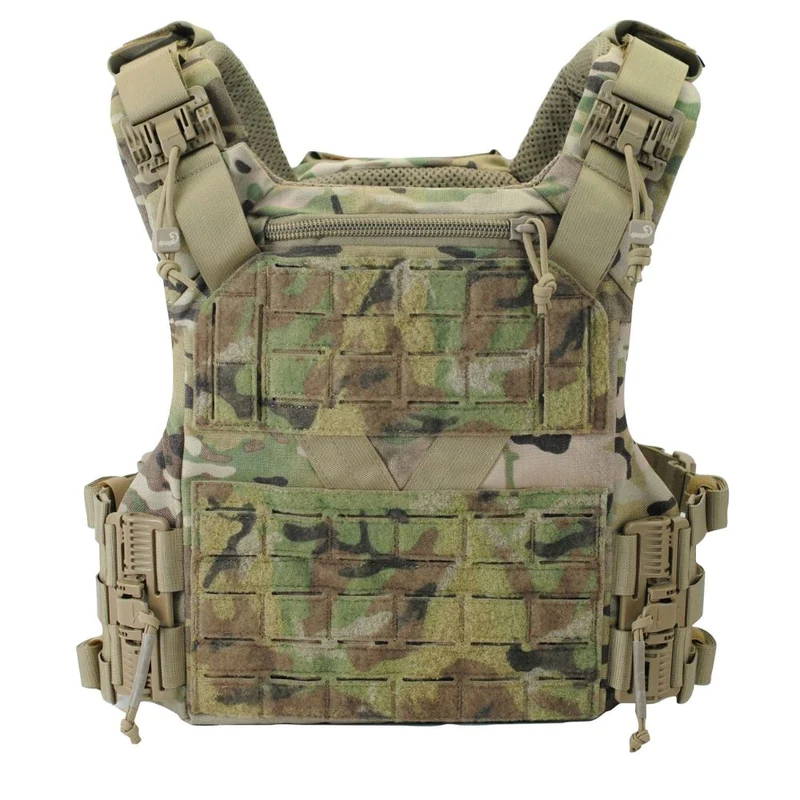 Some other plate carrier companies to check out
We can't cover even all of the "best plate carriers," so be sure to check out these other highly regarded makers in your search for the right rig for you:
Store your weapons and gear in a Liberty safe
Even if you're not a genuine Operator Operating Operationally, you appreciate the need to keep your gear and weapons secure. That's where Liberty Safe comes in. We have a wide range of models and prices to choose from, all designed to keep all your valuable stuff protected from theft, unauthorized access, fire, and even humidity damage. Check out our interactive online catalog of the best gun safes, or find a dealer near you.