A gun safe is an important purchase, even when you're shopping for an entry-level safe or the best safe for the money. It's vital that you choose the right gun safe for you and your individual situation. When weighing the different options for storing your firearms safely, one of the questions people often ask is whether it's important to get a gun safe with fire protection or fire rating. That's a great question, and the answer is a little nuanced depending on your unique preferences and needs. Let's go over some of the factors to consider so you can make an informed decision.

How does fire protection work for a gun safe?
There are essentially two types of gun safe fire protection: Fireboard and "pour-in" or amalgam. The vast majority of Residential Security Container (RSC)-level gun safes utilize one or more layers of fireboard, which is typically made of minerals like gypsum, vermiculite, and/or perlite (which is formed from volcanic obsidian). These are naturally occurring minerals that have high thermal resistance, low heat transfer and are very lightweight. These properties make them ideal for use as insulating materials in residential and office safes. The fireboard is either sandwiched between the outer and inner steel walls of the gun safe or in some safes, glued or wedged against the outer wall with no inner steel wall. A properly constructed, fireboard-insulated safe can have extremely good performance in a house fire.
Higher-rated safes (such as UL levels TL-15 and TL-30), typically for commercial use, may use a different method of construction, where the inner and outer steel walls of the safe are constructed similar to a house foundation, and then an amalgamated material is poured in between. This layer can be made of concrete or various fire-resistant and extremely durable composite polymers. These materials can be 2.5 or 3 inches thick in some cases, and though they help increase the fire- and burglar resistance of a safe, they also increase its weight and cost exponentially, due to the strength and thickness of the steel needed to effectively support the load, and the weight of the amalgamation material itself. If you decide that this level of security and fire resistance is right for you, you'll need to make sure your floors are rated for the extreme load (and prepare for a very large hit to your wallet).
Are fire-protected safes reliable?
The fire-protection capabilities of a fire-resistant safe are only as good as the safe's construction, materials, and testing protocols. Some cheap or unscrupulous safe manufacturers may make claims about the fire-protection performance of their fireboard but leave gaps in the construction or cheap out on the fireboard itself. They might use a high-rated fireboard so they can talk about it in their marketing, but not actually include enough of it to provide any real protection to a safe. Some lesser-quality safe manufacturers have been known to inflate the fire-testing results of their safes or use fire-testing protocols designed specifically to make their safes look good in the tests, rather than testing them in an environment that actually mimics the intense heat of a house fire.
Liberty Safe's fire-testing protocol is unique and literally puts our safes through hell. Our test process is based on guidelines developed by the US Department of Commerce National Institute of Standards and Technology (NIST). These guidelines were developed through a full-scale house fire study designed to mimic what happens during a real home fire. Rather than gradually bringing the heat up to the target temperature throughout the length of the test, we ramp up the temperature in the furnace to at least 1,200 F within the first 10 minutes and keep it at that temperature throughout the entirety of the test. This is a much more realistic way to evaluate the fire resistance of a gun safe. Learn more about Liberty's fire-testing protocol.
Can you go without fire protection?
Some home, office, and commercial safes are constructed without specific fire protection, including some very expensive, high-security-rated designs. These safes are generally intended for use inside more secure locations with structure-wide fire-protection strategies such as sprinklers, halon systems, or similar, where the threat of a house fire is less of a priority than the threat of burglary.
Some in-wall home safes are sold without fire protection as well, and there are some free-standing home and gun safes without fire protection included. For most people, we typically recommend against a gun safe without fire protection, for reasons we'll go into below.
There are also inexpensive gun cabinets that are essentially lightweight sheet-metal lockers with very basic levels of security. These types of gun storage devices can be appropriate for people who prioritize easy mobility and low price over everything else. However, they are typically constructed without any sort of fire protection at all, the walls are usually very thin, and the locking mechanisms and door are relatively easily defeated. For people who have these types of gun storage lockers, we recommend they move up to an Underwriters Laboratories RSC-rated gun safe with proper security and fire-resistant features as soon as possible. Most RSC-level gun safes of any real quality typically include at least a basic level of fire protection, since protecting your valuables and firearms against the devastation of a house fire is often one of the top priorities for gun safe purchasers.
A fire-rated gun safe makes the most sense for most people
Since most quality gun safe manufacturers (like Liberty Safe) usually increase their security ratings and fire ratings together as you ascend the line of products, the more secure a gun safe is from attempted break-ins, the more protected the contents are from fire damage as well. However, even an entry-level gun safe with Level 1 security features from Liberty Safe comes standard with 30 or 40 minutes of fire protection, which, depending on what happens in a potential house fire, can be enough to protect your guns and valuables from serious damage.
Liberty Safe Fire Ratings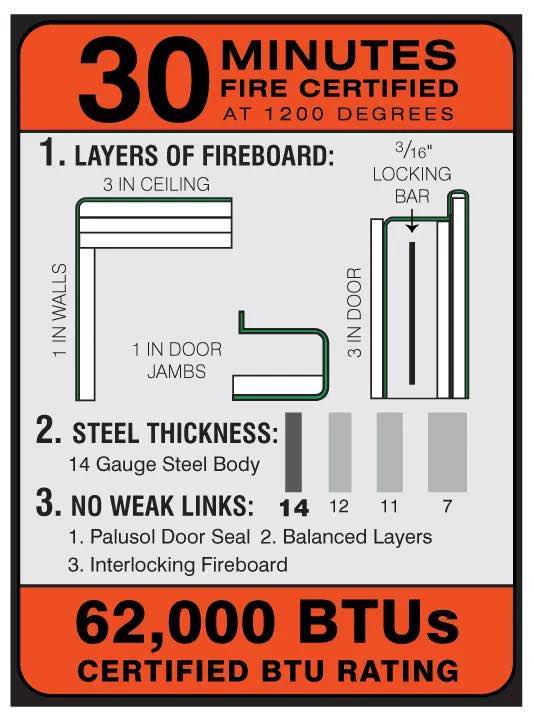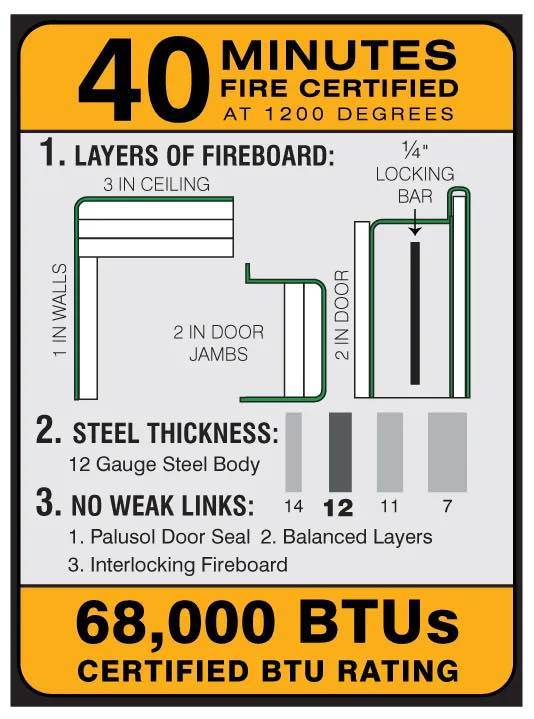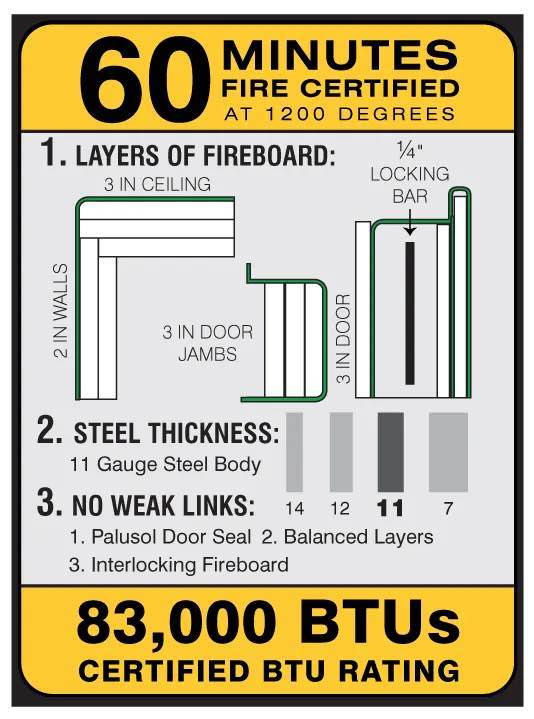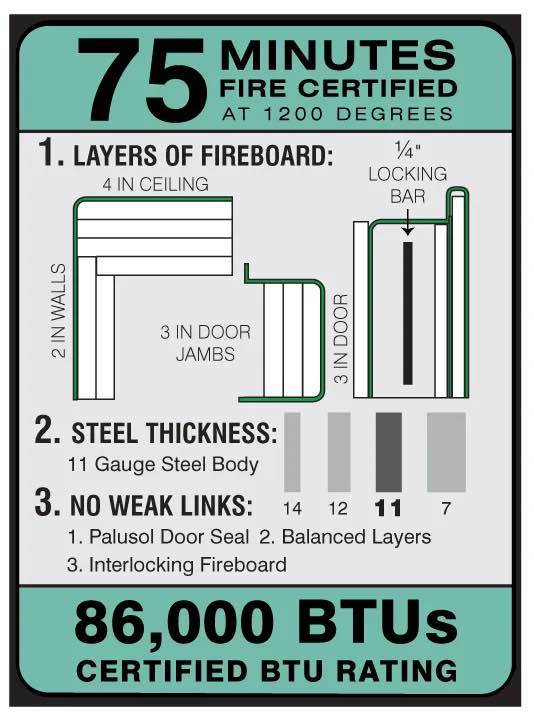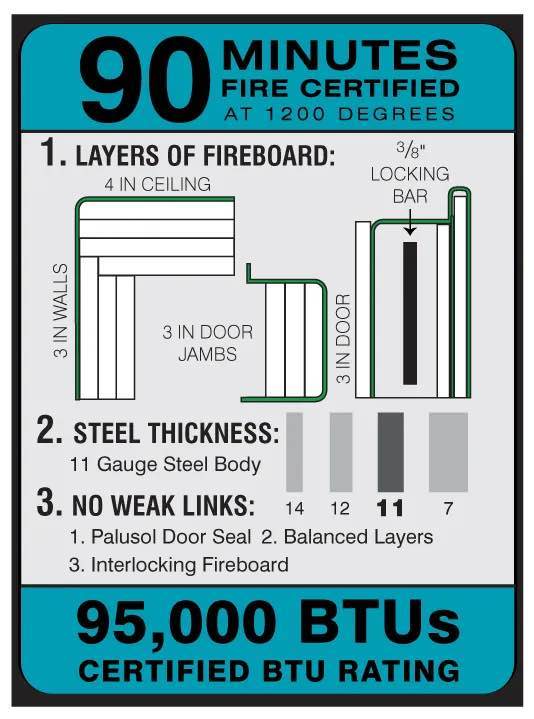 As the features, prices, and security ratings are increased, the level of fire protection also increases, up to a full 2.5 hours at 1,200 degrees Fahrenheit for top models.
Since buying a gun safe with sufficient security features usually includes at least basic fire protection, we feel that a fire-rated gun safe is the right choice for most people. There's really no good reason not to have fire protection. If you're not sure how to choose the right safe for you, try our interactive gun safe quiz that can help narrow it down.
Gun safe fire survival stories
House fires are horribly devastating materially, financially, and emotionally, but unfortunately, they do happen. According to the CDC, the US Fire Administration, and the National Fire Protection Association, there are an average of around 358,000 home-based fires in the US every year. House fires can be caused by a multitude of factors, some of which are entirely beyond your control.
Fortunately, even in cases where a fire has leveled a home to the ground, Liberty Safes have stood up to the test and given their owners a little peace of mind. Check out some of Liberty's fire survival stories.
Get your fire-resistant safe from Liberty
We always recommend that people get the best gun safe they can afford, and the largest—since gun collections tend to grow quickly. However, as noted earlier, even the least expensive Liberty gun safe comes standard with up to 40 minutes of proven fire protection, depending on the size you choose. The pricing and quality are solid, so there's really no reason to go without quality, fire-resistant gun safe. Check out our helpful online catalog of US-made gun safes, or use our dealer locator to find a showroom near you.

*Made in the U.S.A. from U.S. and Global Parts.