Anyone with firearms in the home needs to make sure guns are kept secure from unauthorized access and theft. Of course, we recommend that anyone wishing to keep their guns protected from theft, fire, humidity damage, and unauthorized use buy a US-made, fire-rated Liberty gun safe. Still, a closet gun safe can be viable for some people in certain situations.
Let's go over the basics, some tips regarding closet gun safes, and some pros and cons of this method of firearm storage.

What is a closet gun safe?
A closet gun safe is, as it sounds, a closet in your home that you turn into a kind of gun safe or secure storage area by adding internal features, a more secure door, and a locking mechanism, ideally hiding it from view. Typically this type of storage is selected by people who have an existing closet and are looking to make it more secure rather than building one from scratch.
If you intend to construct a home and want to include designs for a gun closet, we recommend doing it right the first time and building a gun vault room with a proper vault door.
You can also easily convert a closet into a gun safe by simply installing your free-standing gun safe into your closet and bolting it down. As you'll learn below, we usually recommend this method for existing structures.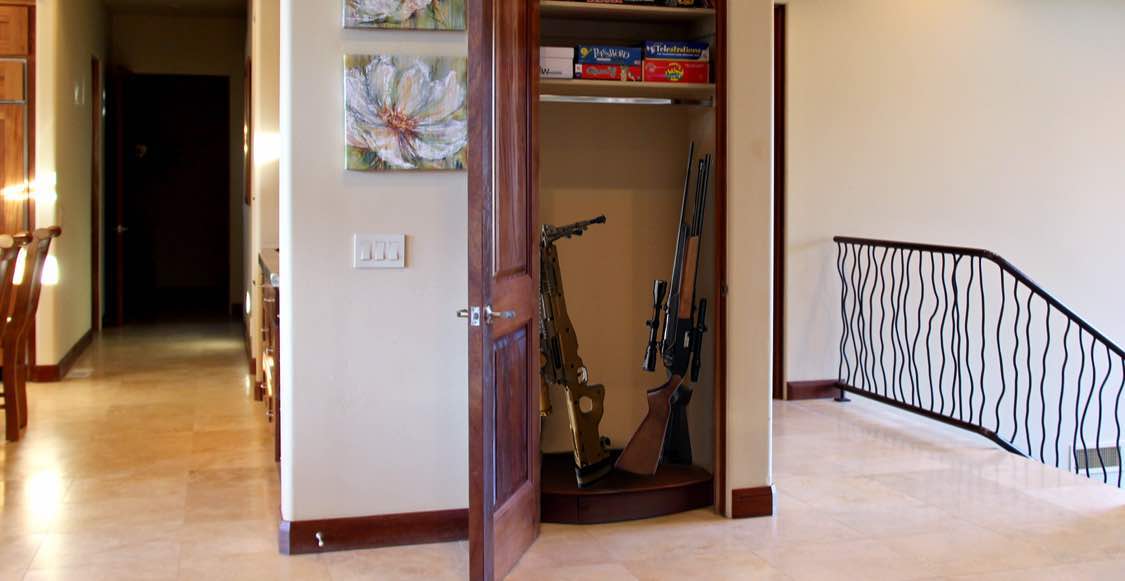 How to make a closet gun safe?
There are typically three approaches to a closet gun safe:
Adding a wall or floor safe in an existing closet (not recommended—for reasons you'll learn below),
Installing a free-standing gun safe into a closet (a viable option).
Converting an existing closet into a safe storage location by beefing up the door and locks. Possibly installing gun racks and even fireboard and/or Kevlar panels, ideally hiding the entire thing behind a secret or hidden door mirror, cabinet, bookshelf, or similar.
Don't install a floor or wall safe in your closet
First, let's discuss why you don't necessarily want to install a floor or in-wall safe inside your bedroom closet. The main reason is that this is the first place burglars look for valuables. Studies show that breaking-and-entering type burglars typically want to spend no more than 10 minutes inside your home, so they focus primarily on the master bedroom, bath, and closets. This is where most people keep their easily stolen valuables, such as cash, jewelry, guns, etc. (The garage is another place thieves look for quick-sell items like hand tools.)
If you want to install a wall safe or hide a small free-standing document safe, the kitchen pantry is one of the best places, hidden behind the door and/or food items.
You can install a gun safe into an existing closet
Second, you can turn your bedroom closet (or any other closet in your home) into a closet gun safe simply by selecting a free-standing gun safe that fits the space closely, allowing provision for opening the safe door enough to gain access and hiding the entire thing behind a locked, sturdy door or a hidden panel/mirror. The safe should be bolted to the floor and, ideally, to the wall studs. Bada-bing, bada-boom… instant closet gun safe.
This approach is by far the least intrusive and time-consuming method for turning a closet into a safe, and it may actually be the most economical from a security perspective, but it may not be for everyone. (See below for the pros and cons of gun safes versus converting your closet.)
How to convert an existing closet into a type of gun safe
The third option for creating a closet safe is to turn an existing closet into a more secure storage space for your guns. You'll need to remove any existing clothing hanger rods, shoe racks, unsuitable cabinetry or shelving, and other items that don't belong in a gun safe. You can reinforce the existing walls if necessary/desired, using Kevlar panels and/or fireboard. Generally, an interior closet framed with 2x4s and covered with sheetrock is as far as many people want to go, but this, of course, is not a super-secure option since if someone knows your closet gun safe is there, they can easily penetrate drywall or sheetrock if they have access to your home.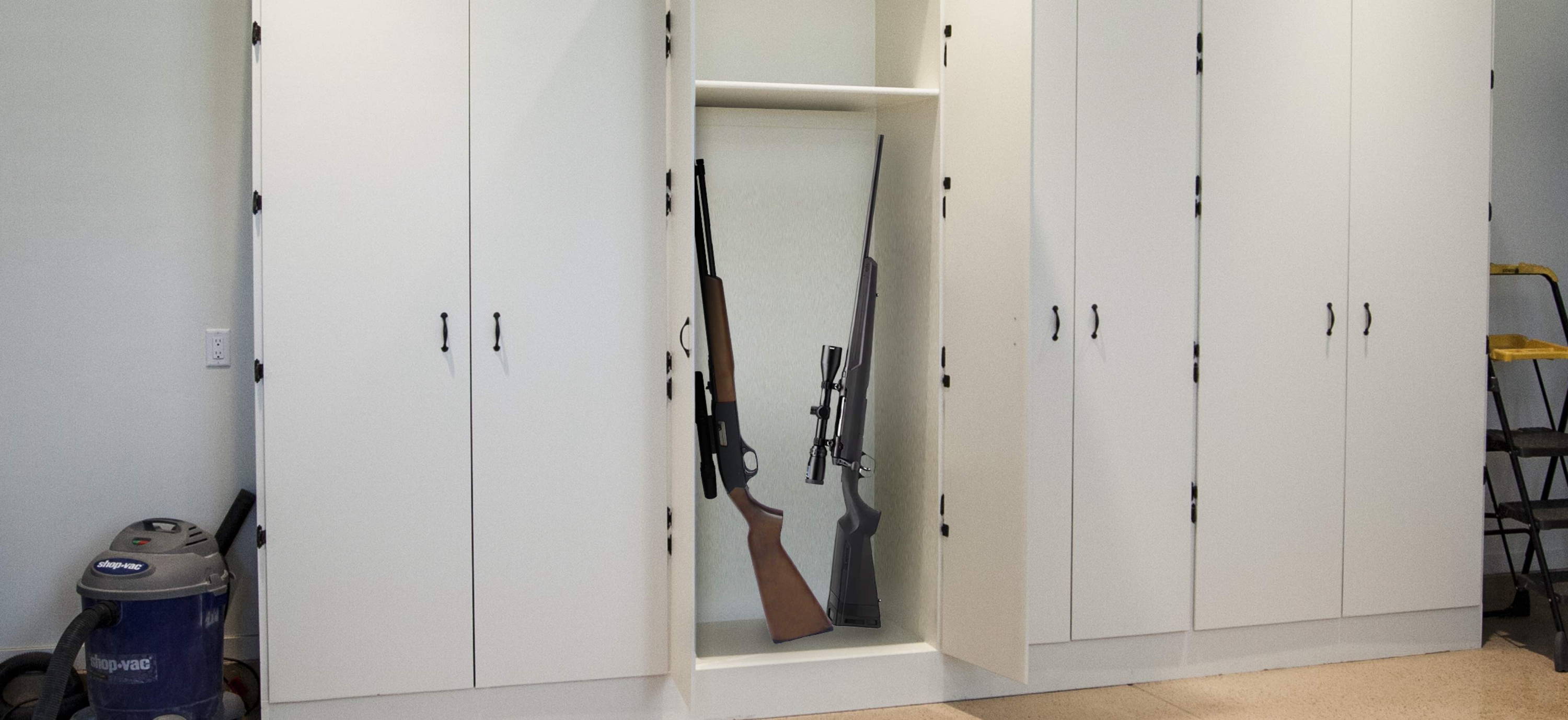 After the interior is to your liking, and you have installed whatever wall-mounted or freestanding gun racks you want to use, you'll need to think about the door. Most residential closet doors are hollow-core and can easily be cut or destroyed. So you'll need to install a good hardwood, solid core door, or a metal door for increased security. If possible, you'll also want to beef up the framing and install keyed deadbolt locks, a digital keypad, or both. Digital keypad locks have the advantage of quick access without a key and are difficult to bypass. Deadbolts are generally stronger, but you'll need a key, of course, and you should always have that key in your direct control.
After you have your closet safe outfitted and relatively secure, one of the most important steps is to conceal it effectively. It's best if nobody but you know you have a closet safe since, as noted above, the bedroom closet is one of the first places a burglar will check for valuables. So, in addition to the secure door, you'll want to add a hidden outer door, such as a wall mirror, moving bookshelf, or similar setup. Wall mirrors are often found in bedrooms, so they may not look strange to a burglar. Ask around your local area and find a trusted contractor who can build you a swing-out mirror, rolling/sliding bookcase, or other cabinetry to hide the closet safe. Depending on the design and the contractor, this can be cost-prohibitive, but if you want maximum security, you must keep your closet gun safe hidden.
Gun Safe vs. Closet Safe: Which is Safer (Pros and Cons)?
Speaking objectively, a proper gun safe with top-level security features, hardened locking bars or bolts, automatic relockers, anti-drill plates, and a solid fire rating will undoubtedly be safer than a gun closet secured with any sort of residential door and deadbolts. Let's go over the pros and cons of each storage option.
Advantages of a gun closet
Cost: If you have experience with home improvement-type construction, turning a closet into a type of gun safe can be very economical. Of course, the crazier you get, the more money you'll need, but a basic setup can be pretty inexpensive, especially if you do it yourself.
Convenience: Starting with what you have and upgrading is convenient. It's also convenient to have a bedroom closet (if that's where you choose to build it) with your guns and valuables in it, close at hand. If you go this route, you don't need to pay a safe moving company or build a modular safe yourself.
Concealability: A well-hidden closet gun safe can offer the benefit of keeping your storage method out of the view of potential thieves, kids, and friends of kids. As long as you keep it to yourself and don't show a bunch of people how cool your "secret" safe room is, nobody needs to know it's there.
Capacity: Whereas a stand-alone gun safe has a somewhat limited capacity, a large "closet gun safe" can be as large as, well, your largest closet. You could potentially put hundreds of items inside.
Disadvantages of a gun closet
Relatively poor security of the door/locks: Even a solid-core, hardwood, or steel residential door with deadbolts or a keypad doesn't provide the same level of security against prybars, saws, drills, and hammers as a proper safe's door or a vault door.
Fire protection: Unless you have a knowledgeable, professional build you a fire-resistant closet, no "gun closet" will have the fire resistance of a good, well-made gun safe, with expanding door seals and up to a 2.5-hour rating at 1200º F. Most people building hidden "closet safes" don't even think about fire protection. You can add a fire-resistant document safe inside your closet for a little more peace of mind, but your guns won't likely survive any kind of serious home fire if they're in a typical closet gun safe.
Easy access via the side and back walls: As noted above, drywall or sheetrock doesn't provide much of a barrier to entry. Properly installed Kevlar panels can help, but a determined thief will make it into your gun closet much easier than he/she will into a proper gun safe.
Advantages of a proper gun safe
Increased security: A well-built gun safe provides excellent security against impact, drill, and pry attacks. Liberty's safes have hardened steel, military-type locking bars, automatic relockers, and available ball-bearing-hard drill plates.
Increased fire resistance: Liberty's gun safes start with a full 30 minutes of fire resistance at 1200º F and are available with up to 2.5 hours of fire resistance. Even if your entire house burns down around it, your Liberty Safe can provide peace of mind.
Video: Liberty Safe Survives a Raging Garage House Fire
Speed of installation: When you buy a free-standing safe and have it delivered and installed, you're done. You are up and running with good security and fire protection, and you didn't have to mess with or wait for a contractor or build a closet safe yourself.
Mobility: When you move, you can take your gun safe with you or re-sell it to the new owner of your home. A "closet" can't really be removed and taken with you.
Humidity and pest control: Because a gun safe is a relatively small internal space compared to most closets, keeping it at the proper humidity level is easier to prevent damage to your firearms. You also don't have to worry about mice or other pests gnawing through the steel floor or walls, like you might with a closet.
Disadvantages of a gun safe
Higher cost: Though you might be surprised at how affordable an entry-level gun safe can be, it will likely be more expensive than installing a better closet door and locks. However, once you finish upgrading and concealing your gun closet, you might have spent more than you would have on a good entry- or mid-level gun safe that will ultimately have better security features and fire protection.
Weight: Good quality steel and locking bars are heavy, as is a suitable fireboard. A full-sized safe will weigh at least 250 pounds empty, and they go up to 1,500+ pounds for the large-capacity, high-fire-resistance models. So make sure your floor and joists are rated for the load, and hire professionals if you need to move your heavy safe.
Reduced capacity: Compared to a large walk-in closet (or most bedroom closets), even the largest free-standing gun safe will probably have lower capacity.
Greater visibility (potentially): Unless you install it in a closet (as mentioned above), a free-standing gun safe is more noticeable and difficult to conceal than a simple door or a hidden mirror panel. If someone knows you have a gun safe, they might tell others, and word can get around. It's best to keep your safe hidden in an interior room or basement where few people other than close family members will ever see it.
Other Methods of DIY Gun Storage
Gun vault
A gun vault is essentially a "gun closet safe" on steroids. A proper gun vault will have hardened concrete walls, a vault door, a humidity control system, and enough room for all of your guns, valuables, and some. You CAN build a gun vault yourself, but we recommend hiring a professional to install the vault door, at a minimum.
Gun cabinets
There are various types of gun cabinets, which can be useful for keeping your guns out of the reach of children. None of them are great at preventing theft or fire damage, so keep that in mind. You can buy a steel storage-locker-type gun cabinet, or you can buy or make a wood gun cabinet yourself. Make sure to read up on the pros and cons of gun cabinets.
Hidden gun tables, walls, shelving
YouTube was rife with people showing off their automated, remote-controlled gun walls, tables, shelving, and more for a while. These are usually custom-built either by a homeowner or a contractor experienced in this type of thing, and they won't be cheap. But in some cases, it can provide good concealment and reasonable security for some of your firearms and allow ready access for users wearing a magnetic ring, bracelet, or RFID chip-enabled device. If you want to do this kind of thing yourself, it'll take a bit of learning and probably a lot of money. Companies like Tactical Walls can help.
Play it Safe - Buy a Liberty
If you want a secure, humidity-controlled, fire-resistant place to store your guns in your home, a dedicated gun safe is the best way to go, in our view. While a DIY closet gun safe is certainly better than leaving your firearms out and about, it's not really the best when it comes to security and fire protection, and when it's all said and done, it might actually be MORE expensive than buying a good gun safe.
Check out our online catalog of gun safes and you might be surprised how affordable a good gun safe can be. Or visit a showroom near you.