76 Millimeter Tank Round Versus 10 Liberty Safes
What happens if you shoot a gun safe with a M4 Sherman tank? Can a Liberty Safe survive getting shot by a tank? What about TEN Liberty gun safes? In this epic video brought to you by Demolition Ranch, YouTube's largest firearms channel, you'll see what happens when a 1944 Sherman tank fires a 76 millimeter, 17 pound (that's right, SEVENTEEN POUND) solid steel round at 10 of our Liberty Safe Lincolns.
The War on the Shore
Matt Carriker, the man behind Demolition Ranch, is a veterinarian, husband, father, and a guy who really, really likes to blow things up. He had an idea to see how many safes a Sherman tank round could blast through, but he didn't want to test his theory on just any safes. He wanted the best gun safes for his video, so he came to Liberty Safe.

We shipped a whopping 10 of our quality Lincoln safes to the Demolition Ranch team in Texas and waited to see what would happen.
The Lincoln Gun Safe Series
Our Lincolns are mid-level safes that give you excellent protection at an affordable price and come in three sizes; 25, 40 and 50 gun count sizes.
🇺🇸 Made in the USA

🔥 110 Minutes at 1200º F

🛡️ Level 5 Security

🗜️ 11 Gauge Steel

5-point handle
4-in-1 Flex™ adjustable interior
Interior lighting and electrical outlet
Premium door panel
Liberty's exclusive, ultra-strong locking bars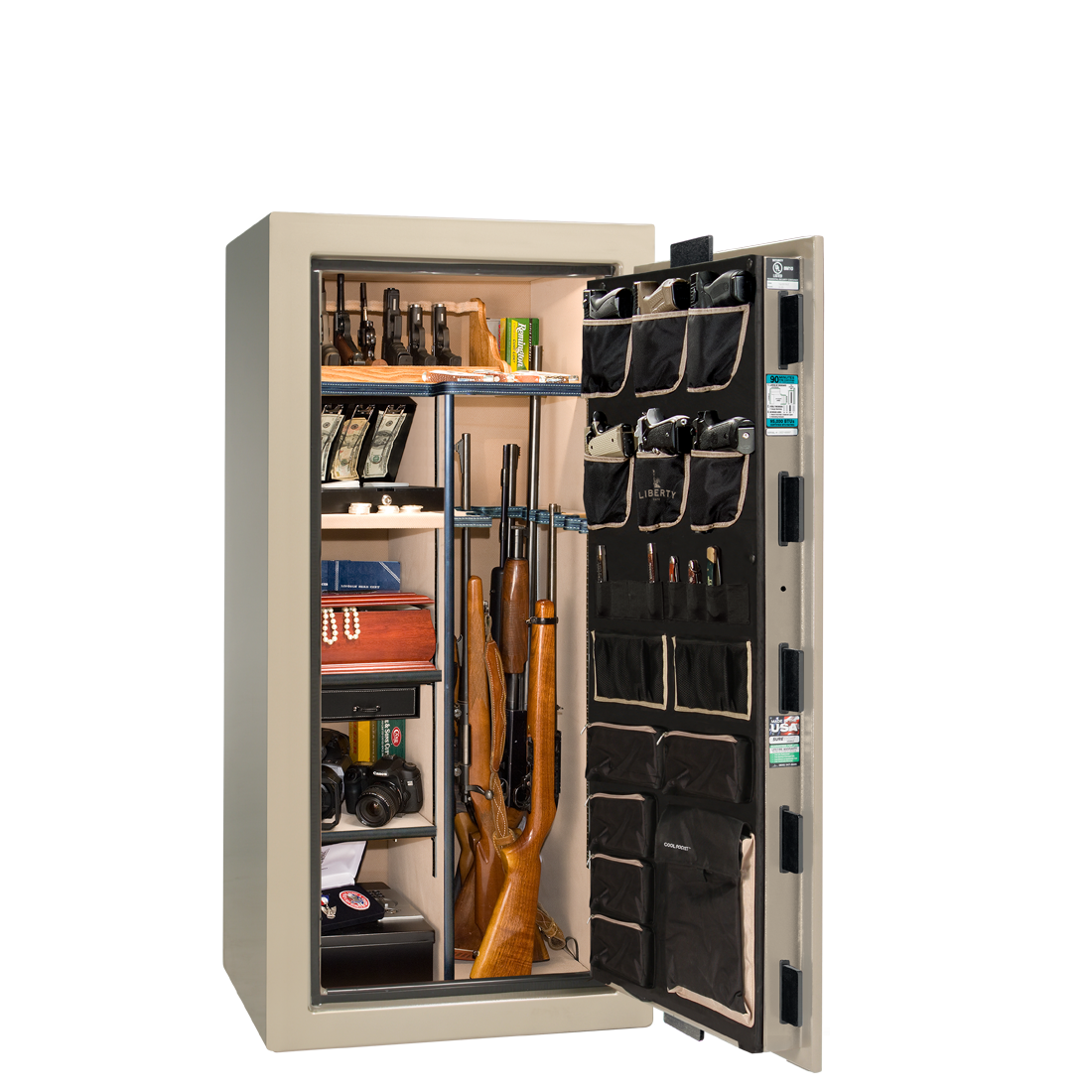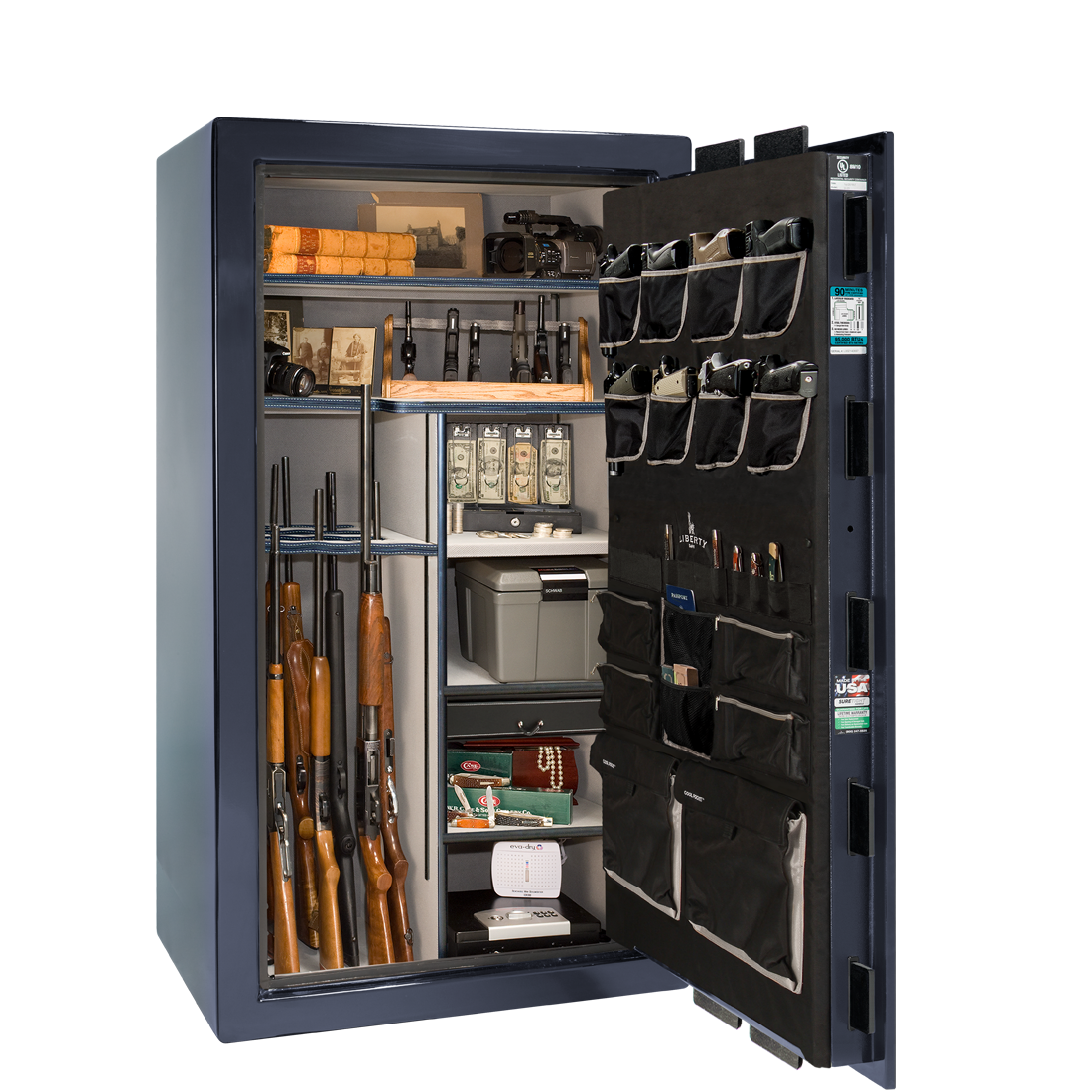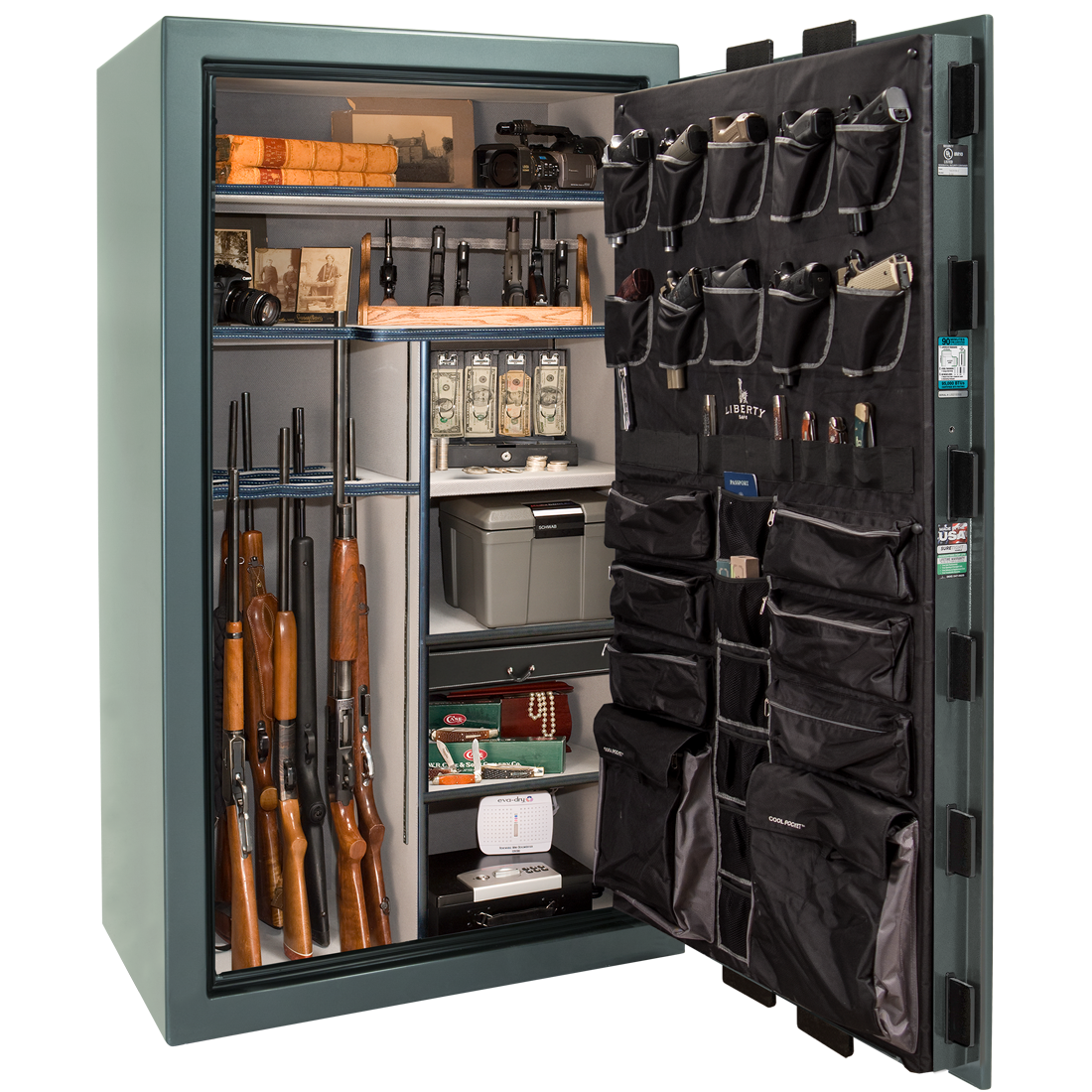 A 17-Pound Sherman Tank Projectile
Matt and his crew set up all 10 Lincolns in a row, lined up the tank's scope, and hooked a pull cord to the trigger mechanism. "We're actually not gonna be firing from in here just in case there's a failure," Matt said from inside the tank. "It will all explode everything in here, so we're gonna be outside the tank pulling the ripcord that will pull the trigger in here."
Once everything was set up, Matt yanked the pull cord and fired.
The first attempt hit high, exploding out the top of the first safe and ripping into the second safe. It hit the corner of the third safe, then shot out the side.
That wasn't exciting enough for the Demolition Ranch team, so they decided to go for round two.
The Second Shot From Tank Penetrating the Gun Safes
After moving the two most damaged safes out of the way, Matt's team lined up the remaining 8 safes and had another crack at them. This time, the 76mm round blasted a hole through 5 of the safes, then smacked into the sixth safe in line before being stopped.
Matt and his demo team tried to get the doors open on some of the damaged safes. But even with a hole through the front, the doors couldn't be opened. Our security tech did its job. All of our full-sized safes come with a relocker that's designed to kick in if a thief attempts to smash the door open. The relockers put the safe in lockout mode so the door can't be opened and your valuables can't be stolen.
We can't imagine any situation where your gun safe would need to face off against a Sherman tank. But when Demolition Ranch calls and starts talking about tanks and safes and 17-pound rounds, you know we can't say no.
Enjoy the video! For more on our famous Torture Tests, click here.